Welcome to JFJ August Newsletter!
---
JFJ Summer School for Media Workers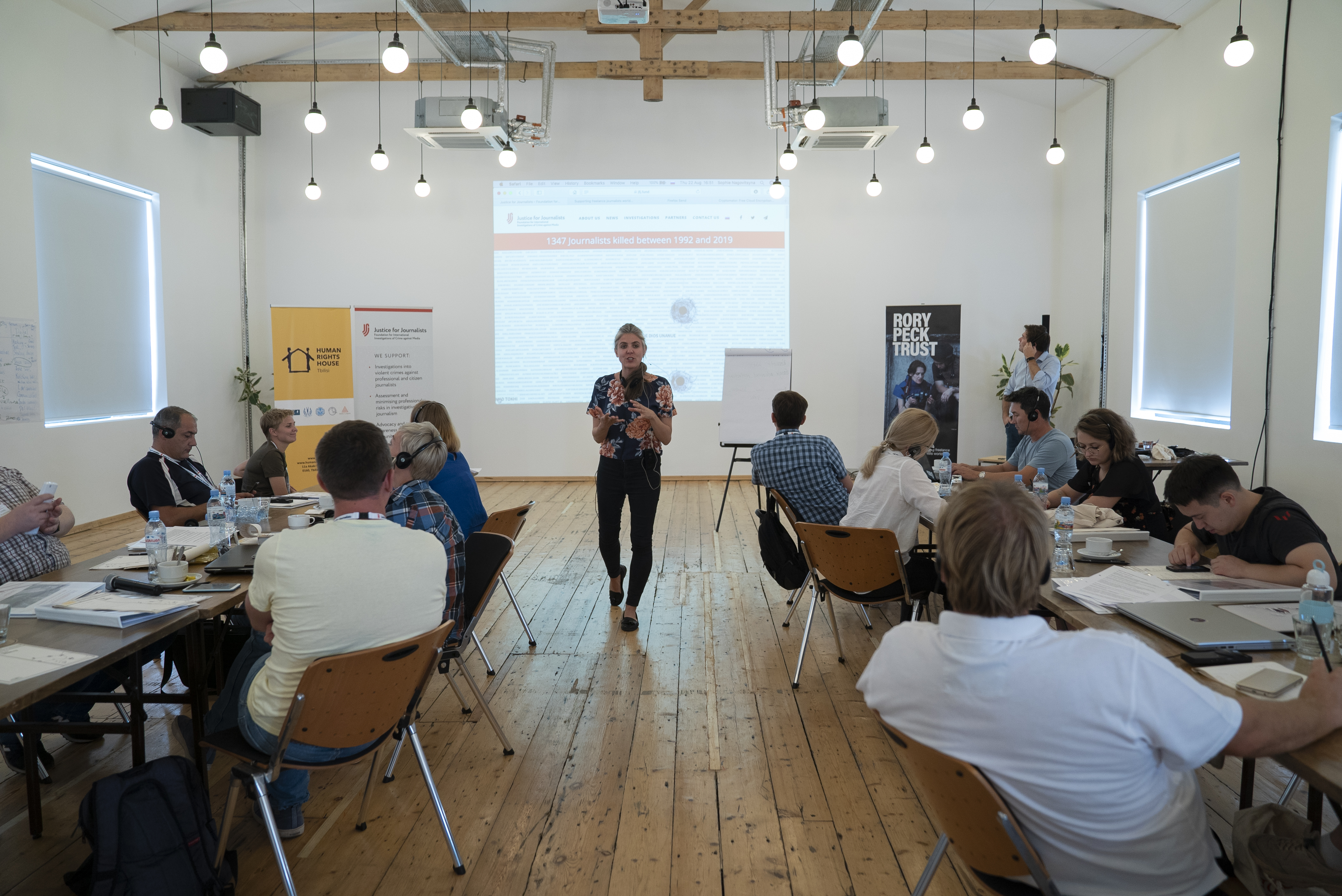 In August, JFJ successfully conducted its first safety and security training with the support of Rory Peck Trust and Human Rights House Tbilisi. During 5-day tailor-made training for the Russian-speaking journalists and bloggers, leading specialists from Russia, Georgia and the UK have covered physical safety, first aid, digital security, trauma and media law. 
"Living in Russia, I think it is crucial to have at least a basic habit to think about safety. During 5 days, every topic has been covered. I think it is a unique opportunity for everyone to understand the basics of safety principles." – Publisher, Russia.
Following the positive feedback, we will continue to provide assistance for Russian-speaking bloggers and journalists by making more resources available online along with more training opportunities in the nearest future.
We have also sponsored a series of physical and digital security training with Resource Centre "Point of Support" for journalists and bloggers from a number of Russian regions.
---
JFJ's own system of Incident Reporting aims to track physical, non-physical and cyber threats and attacks against media workers from 12 post-Soviet states. With the help of this mechanism we inform the international community about the scale and types of media abuse in these countries. Risk prevention is in the heart of JFJ operation and creating global awareness about attacks against journalists is an important step in preventing them. A number of journalists and NGO representatives have already become our Incident Experts.
We are open for cooperation with experts from Russia, Ukraine, Armenia, Azerbaijan, Belarus, Estonia, Georgia, Kazakhstan, Kyrgyzstan, Lativa, Lithuania, Moldova, Tajikistan, Turkmenistan and Uzbekistan.
Email us on info@jfj.fund to discuss how to become our Incident Expert.
---
On August, 26 Daphne Caruana Galizia could have turned 55 years yet she was brutally assassinated on October, 16 2017. At the time of her death she was investigating corruption by politicians in the Maltese government. Council of Europe has set a date for Malta to launch the public inquire into Daphne's death yet there are no actions taken till today.
To commemorate the memory of Daphne Caruana Galizia, Rebecca Vincent, Reporters without Borders UK bureau director flew to Malta, Valetta, where she was harassed during the protest memorial. "The harassment I faced at the protest memorial for Daphne Caruana Galizia was really nothing in comparison to what local journalists, activists, and members of the Caruana Galizia family experience on a daily basis in Malta," said Rebecca to her interview with The Shift.
JFJ Investigative Grant Programme supporting Reporters Without Borders to bring justice to the assassination of Daphne Caruana Galizia.
---
JFJ Investigative Grant Programme
Photo: Volodymyr Petrov/ Kyiv Post
JFJ Investigative Grant Programme is sponsoring investigations into crimes against journalists. This month we have launched a page for investigations sponsored by our grant programme.
Currently you can read an investigation "Ukraine in retrospective: journalists safety vs political environment" which is a part of the special project by the Kyiv Post – "Dying for Truth".