Dear friends and partners of the Justice for Journalists Foundation!
Please accept our warmest season's greetings. We wish you a happy and prosperous New Year and Merry Christmas! In this newsletter, we would like to thank you for all your support and give a round-up of JFJ's activity in 2021.
JFJ Investigative Grant Programme

In 2021, JFJ supported 21 investigations into violent crimes against journalists in Colombia, Zimbabwe, Russia, Turkey, South Sudan, Mexico, Nigeria, Belarus, India, Ukraine, Montenegro, Kyrgyzstan, UK, Morocco, China, and Azerbaijan.

JFJ continued to allocate funds towards exploring of how SLAPPs are applied to obstruct journalists' investigative efforts. In November, JFJ together with the Foreign Policy Centre (FPC) organized UK's first Anti-SLAPP conference. The full recording of the conference can be found here.

The UK Anti-SLAPP working group has developed proposals for reform to counter legal intimidation and SLAPP in the UK and presented them on the last panel. The full text of the UK working group proposals here. We welcome your feedback into the proposals by 31 December 2021. Please submit it here.

Submission of proposals for the Investigative Grant Programme will be open in January 2022. Follow JFJ's social media to find out more.
Read latest investigations funded by JFJ's grants:
Trouble with the Truth
YouTube version of the podcast Trouble with the Truth hosted by journalist and activist Lana Estemirova was launched this summer. "I decided to start this podcast because I always understood the value of pursuing the truth in impossible circumstances. I learned this from my mother, human rights activist and journalist Natalya Estemirova."
The English-language podcast features media workers from around the world who face persecution just for doing their job. Lana's guests are well-known and courageous journalists from around the world.

In the latest episode of Trouble with the Truth Lana interviewed Drew Sullivan from the OCCRP and Roman Anin from Istores about the Pandora Papers and what happened behind the scenes of one of the largest journalistic collaborations in history.
Media Risk Map
JFJ's Media Risk Map covers 12 FSU countries, as well as Crimea, and provides information both on Russian and English languages of 13,024attacksagainst media workers that took place between 1 January 2017 and today. The latest analytical report covering attacks on media workers in 2020 can be found here.
Data from the Media Risk Map and JFJ's statements has been used by the UK Parliament, National Committee for the Safety of Journalists, local NGOs, and news outlets in all 12 countries we monitor, International Bar Association, Freedom House, US State Department, and others. In June 2021 we launched a new initiative aimed at advocacy for the FSU media in the UN and already provided reports to the various UN departments.
JFJ has participated in CoE Safety of Journalists Platform Meeting and our alerts and expertise will be used by the Platform in 2022. This year JFJ also became a partner of the 200-members strong Journalism Safety Research Network (JSRN) hosted by the Centre for Freedom of the Media (CFOM), at the University of Sheffield.
Orkhan Dzhemal Media Safety Academy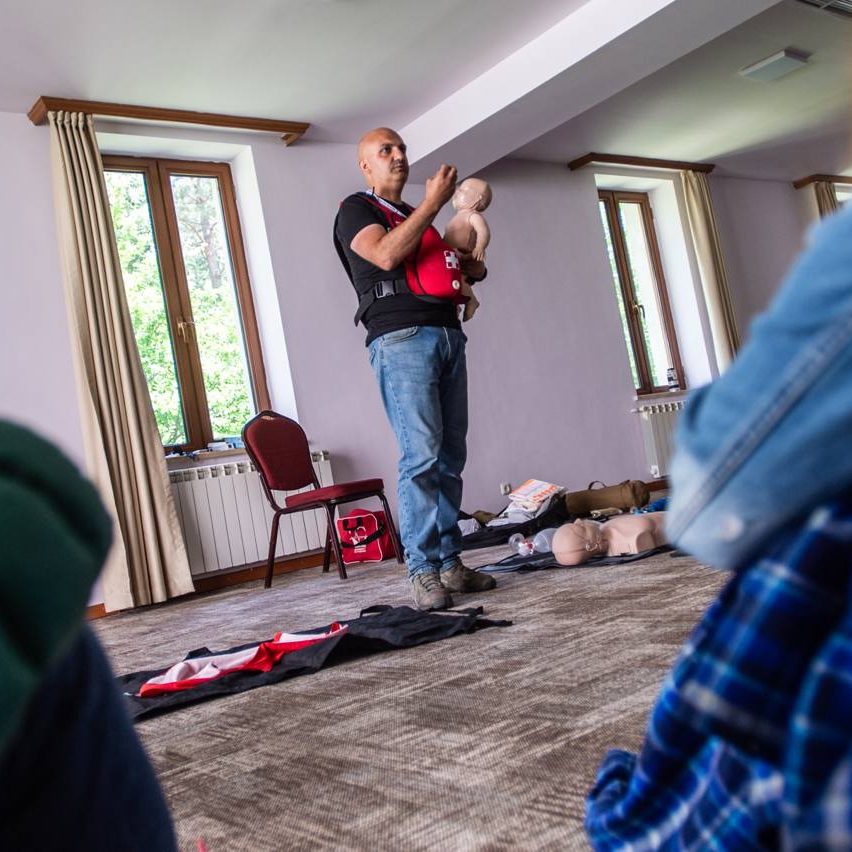 Despite the challenging year, we managed to conduct both online and offline training centred around various aspects of media safety. Between the summer of 2019 and today, almost 500 students participated in the Academy's Russian-language online and offline courses centred around media security and self-defence for media workers.
This year we have built up relationships with The Free University (Moscow). Academy's course The basics of the media safety and security is now a mandatory course for the students of Free University Media School. JFJ also strengthened its relationship with Sheffield University (UK) and took part in its annual International Journalism Week.

Academy has authored the Russian-language self-help materials on media security: