Police in Bulgaria are investigating the killing of journalist Viktoria Marinova.
Her body was found in a park in the northern city of Ruse, near the River Danube, on Saturday.
Interior Minister Mladen Marinov later confirmed she had also been raped.
It is not known if the killing is linked to the 30-year-old's work at a local television station, TVN. An investigation is looking into her personal and professional life.
Her death immediately drew international condemnation.
"Shocked by horrific murder of investigative journalist Viktoria Marinova in Bulgaria," tweeted Harlem Desir, the media freedom representative for the Organization for Security and Cooperation in Europe.
"Urgently call for a full and thorough investigation. Those responsible must be held to account."
Ms Marinova was a presenter on a recently-relaunched current affairs talk programme called "Detector" for TVN.
Its first episode featured an interview with two Bulgarian investigative journalists exploring alleged fraud involving EU funds linked to businessmen and politicians. The pair, Attila Biro and Dimitar Stoyanov, were arrested in September while looking into the case.
She is the third high-profile journalist to be killed in the European Union in the past year, and the fourth since the start of 2017.
The @EFJEUROPE calls on authorities to identify and arrest those responsible for horrific murder of journalist Victoria Marinova in #Bulgaria pic.twitter.com/ukAgEk6tNv

— Ricardo Gutiérrez (@Molenews1) October 7, 2018
Swedish reporter Kim Wall was killed by Danish inventor Peter Madsen after boarding his homemade submarine to do an interview in Copenhagen in August 2017.
In October 2017, Maltese journalist Daphne Caruana Galizia was killed by a car bomb near her home, while in February this year Slovakian journalist Jan Kuciak and his fiancée Martina Kusnirova were shot dead.
Both Ms Caruana Galizia and Mr Kuciak were known for their work exposing corruption.
Ruse regional prosecutor Georgy Georgiev said Ms Marinova had suffered blows to the head and was suffocated in the fatal attack, adding that her "mobile phone, car keys, glasses and part of her clothes were missing".
Prime Minister Boyko Borisov said a large amount of evidence, including DNA, had been discovered, and said "it is just a matter of time before the perpetrator is found".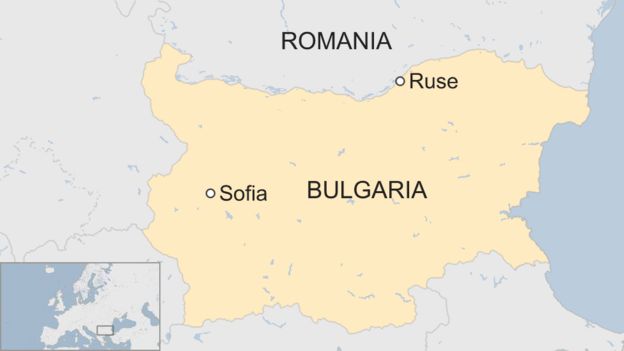 Bulgaria is considered the worst country in the EU when it comes to press freedom, according to Reporters Without Borders.
The organisation says investigative journalists in the country "are often subjected to pressure, from mere warnings to intimidation and physical assaults on themselves or their property".
The European Commission said it learned of Ms Marinova's death "with great sadness".
"The Commission expects a swift and thorough investigation by the responsible authorities that will bring those responsible to justice and clarify whether this attack was linked to her work," a spokesman said.
"We must make sure that journalists everywhere are safe and make their invaluable contributions to our democratic societies."