"Well, I think, one, I really hate to give up. That's a personality trait. Secondly, I've been doing it for a really long time. As they say, in for a penny, in for a pound now! You know, what am I going to do – give up now?"
Daphne Caruana Galizia – 6th October 2017
The 16th October 2021 will mark four years since Malta's leading investigative journalist Daphne Caruana Galizia was murdered in a car bomb, just a few metres outside her home.
Those who orchestrated Daphne's assassination did so based on the assumption that her death would be quickly forgotten but the opposite happened instead.
Her work is being continued by a consortium of local and international journalists, a vocal civil society movement was born, Malta's prime minister at the time of her murder eventually resigned in disgrace.
A public inquiry into the circumstances that led to her death concluded that the State failed to adequately protect her from the threats she faced and was, therefore, bears responsibility for her death.
To her detractors, her name is synonymous with the long dark shadow that her assassination has cast over the country. To those who continue to expose government corruption and cronyism, her name has become synonymous with the fight for truth and justice.
To mark the fourth anniversary of her death The Shift will be writing about Daphne Caruana Galizia outside of these two opposing contexts and place Daphne, the person, at the centre of our story with a small collection of how her family, friends and colleagues have remembered her over these four years.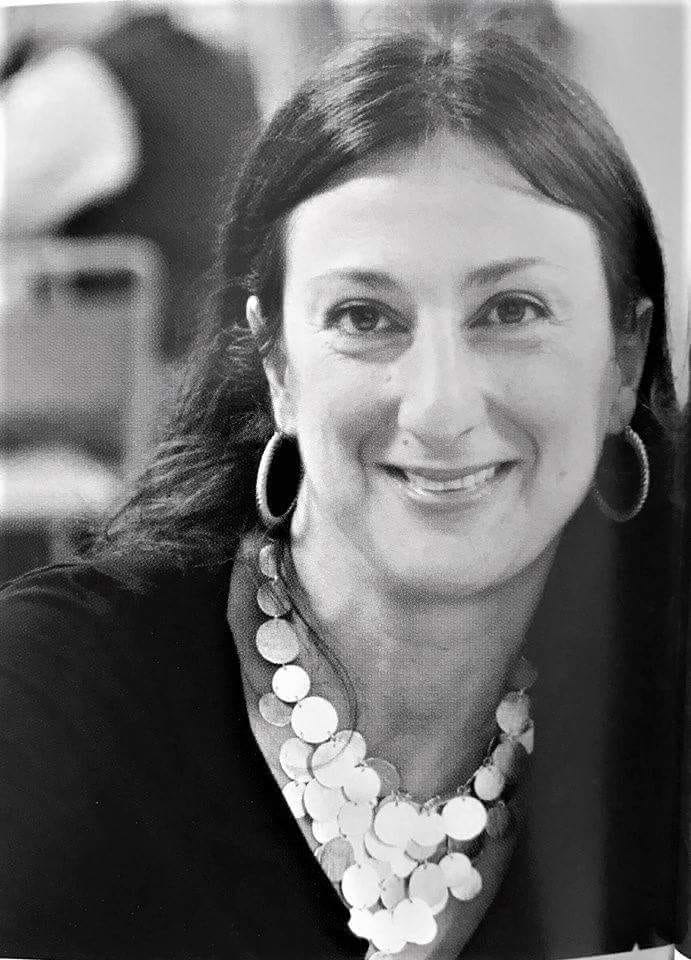 Who was Daphne Caruana Galizia?
Daphne Caruana Galizia's career in journalism started after the Maltese general election of 1987. At 25, with three young sons, she became the country's first female columnist, and the first journalist to use her name in the byline. "And this thing was a double shock," Daphne told the human-rights researcher, days before her death. "I used to have people actually telling me, 'But does your husband write them for you? Does your father?' "
During the 90s she worked as a columnist both with The Sunday Times of Malta and The Malta Independent but she had grown frustrated with editorial constraints and in 2008 decided to set up her own blog called Running Commentary.
Daphne ran her blog single-handedly and it was to become one of Malta's most widely read independent portals. Her supporters as well as her enemies read her updates assiduously. By late 2016, Politico Europe had included her on its list of "people who are shaping, shaking and stirring Europe." She was "the blogging fury," the entry read, "a one-woman WikiLeaks, crusading against untransparency and corruption in Malta, an island nation famous for both.
To her readers, she simply became known as "Daphne".
Her analytical skills and writing style were a rarity in Malta. Not only was she able to reconstruct seemingly unrelated snippets of information into a logical sequence of events but as a reader, you could almost make out her voice as she narrated the latest episode of corruption, cronyism and sleaze among the country's top officials.
Her investigative pieces and her revelations were often interspersed with withering taunts towards party apparatchiks and hangers-on, an irreverent style that she had picked up reading British magazines. A hard-hitting investigative story would be followed by a post noting the price tag of the designer shoes worn by the prime minister's wife.
Many will say that this was the one aspect of her writing that they didn't like, but in truth, it was another of the many reasons she was so widely read. She mocked and criticised public figures the way many would in the privacy of their home.
She didn't only write about corrupt politicians. She was also the editor of a lifestyle magazine and it was among these pages that Daphne would share her love for art, culture, beauty and creativity.
Occasionally, this love for beauty would slip into her blog posts, such as when she would write about how revolting she thought bird hunting in Malta was and how she could never fathom how anyone would want to destroy something as beautiful and as majestic as birds in flight.
This is a side of her that is sometimes overlooked when describing Daphne's life and work but those who knew her personally would tell that her pursuit of beauty, whether it was the romanticism of unkempt gardens or the impracticality of buying china dinner sets for the love and beauty of them, was as much a part of her as her righteous passion for the truth.
Her youngest son, Paul describes how, despite what his mother was put through over the years in retaliation for her writing, being one of her sons was wonderful.
He describes how she seemed to have all the time in the world for them, how she taught them to read widely and to care for each other, their friends, family and pets. He described what a tightly knit family they were growing up and how Daphne would compare her three sons to an artichoke, the leaves of which are wrapped more tightly around the heart.
Her sister Corinne recalls how much Daphne loved reading as a child and how she would then go on to write children's stories similar to those she would have just read. Her childhood friend, Clare Vassallo, writes about how she and Daphne together with a close group of friends started a book club as children where they pooled their books, sometimes stored in Daphne's bedroom.
Those who worked with Daphne also got to know a different side of her that was impossible to glean from her investigative writing alone. One of her long-time publishing colleagues, Ramon Micallef, describes what a joy she was to work with, remembering how organised she was and had the ability to remain efficient without sacrificing creativity. He recalls how she loved to be surrounded by artists, books and culture and how heavily she invested in photography for her Taste & Flaire magazine, which is where she wrote about what she loved and what she considered beautiful.
Artists who met Daphne, whether it was just once such as Danish artist Marie Louise Kold or others who forged friendships with her over time like illustrator and art director, Gattaldo, both note how beauty was an integral aspect of Daphne's life.
"There was art, creativity and beauty everywhere," Kold recalls after visiting Daphne's home.
Kold created Daphne's portrait that now hangs by the European Parliament Press Conference Room in Strasbourg, named after Daphne Caruana Galizia.
Gattaldo, who remembers Daphne as having a sharp sense of humour, a love for beautiful things and cuisine, published a children's book that captures the life of his fearless friend.
Those who hoped that Daphne Caruana Galizia's assassination would be swiftly forgotten, not only underestimated the impact of her journalism but also the impact of her person on those who knew her.
The year following her assassination, Daphne Caruana Galizia won Transparency International's 2018 Anti-Corruption Award, one of many to be awarded to her posthumously. During his speech when collecting the award, her eldest son Matthew said:
"Nothing will ever compensate for the journalist – let alone the person – we lost in her fight against corruption."
These words continue to ring true.
The following project is weekly Maltese Roundups prepared by The Shift News (Malta) offering the latest news in the Daphne Caruana Galizia case.