PHOTO: ANDREY KAPTARENKO
1/ KEY FINDINGS
56 cases of attacks/threats against professional and citizen media workers and editorial offices of both traditional and online publications in the Republic of Moldova were identified and analysed in the course of the research for 2022. The total number of attacks on journalists decreased compared to 2021 and 2020, during which 68 such attacks were recorded. Data for the study were collected using open source content analysis in Romanian, Russian and English. A list of the main sources is presented in Annex 1.
The majority of cases (39) were non-physical and/or cyber-attacks and threats. These have remained the main method of pressure on media professionals in Moldova since 2017.
Most attacks (61% of cases) in 2022 came from persons not representing the central or local government, signifying a change from 2021, when the main perpetrator of non-physical attacks/threats against media workers were government officials and members of parliament.
The number of physical attacks against journalists remained at the same level as in 2021.
The number of cases of attacks via judicial and/or economic means decreased compared to 2021 (from 20 to 10 incidents).
For the first time in the country's history, a court ordered that a manager of a media outlet (Val Butnaru, Jurnal TV) be deprived of the right to hold management positions in the media for a period of six months in a case of alleged defamation.
To note that some attacks and threats are not publicly reported, since many journalists consider cyber-attacks and non-physical threats in particular to be an unavoidable part of their daily work and therefore do not report them.
2/ THE POLITICAL SITUATION AND THE MEDIA IN MOLDOVA
In 2022, the Republic of Moldova ranked 40th out of 180 countries in the annual Reporters Without Borders (RSF) Press Freedom Index, significantly improving its position compared to the previous year, when it ranked 89th. RSF noted, however, that "oligarchs and political leaders strongly influence editorial stances" in the country, and that covering the war in Ukraine and the consequences of the COVID-19 pandemic could lead to self-censorship. In 2023, Moldova ranked 28th.
There are more than 157 providers and distributors of audio-visual media in Moldova. According to data from the Audio-visual Council (the national TV and radio regulatory authority), there are 64 TV channels and 58 radio stations licensed in the country. Data from the National Bureau of Statistics show that, in 2022, there were 96 newspapers/publications with an annual circulation of about 12 million copies in Moldova. This Includes 57 in Romanian (with a total annual circulation of about six million copies) and 158 magazines with a total annual circulation of 1.1 million copies, including 48 in Romanian (total annual circulation – 0.6 million copies).
According to the Barometer of Public Opinion of October – November 2022, a survey conducted by the Centre for Social Studies and Marketing "CBS-Research" and the Institute for Public Policy, 74% of Moldovan citizens use the Internet every day, 64% watch TV daily, 31% listen to the radio, and 7% read newspapers daily. For 41%, the primary source of information is television, and for 45% – the Internet. Over 51% of respondents trust the media in Moldova, with the Internet and TV in the lead position. Compared to previous years, 2022 saw an increase in the share of citizens who get information from online resources and social media, conversely, there was a decrease in the number of Moldovans who get information from/trust traditional media (TV, radio, newspapers).
The ruling party of the Republic of Moldova – Party of Action and Solidarity (PAS) promotes reforms and European integration for the country. In 2022, several legislative initiatives relating to the media were adopted, including amendments to the Audio-visual Media Services Code, introducing a definition for 'disinformation', increasing the quotas of mandatory European products for audio-visual media service providers and tightening sanctions for non-compliance. A new advertising law based on international principles, including fair competition and protection of consumers' advertising rights, was adopted; a new Election Code now makes clear provisions for the work of media outlets and journalists during election campaigns, and excludes some unjustified constraints.
The Republic of Moldova has strongly condemned Russia's invasion of Ukraine, supported Ukraine and has hosted hundreds of thousands of refugees. The Commission for Emergency Situations, alongside the Intelligence and Security Service, have introduced measures to protect Moldova's information space from malign propaganda influences during this state of emergency. Several websites promoting war and hatred, and justifying Russia's military actions were blocked, and in December 2022 the Commission for Emergency Situations, during the state of emergency, suspended the broadcast licences of six TV stations in Moldova Some of these stations were owned by Russia, while others were owned by certain groups using TV stations as a source of propaganda, disinformation and manipulation of public opinion. After Russia's invasion of Ukraine, several Moldovan media outlets were blocked in the Russian Federation by the country's watchdog Roskomnadzor.
The affiliation of some media outlets with political parties opposing the European integration, as well as with criminal groups, remains the main impediment to the development of the media market on democratic principles. Legislative changes and firm action by the Audio-visual Council have led to a decline in the influence of politically controlled media trusts, but their owners are trying to regroup to regain their market positions. Russian media influence in general has diminished somewhat over the past year, but is still felt, especially in the Gagauz autonomy in southern Moldova.
3/ GENERAL ANALYSIS OF ATTACKS
In 2022, 56 attacks on media workers were recorded. The majority of cases (39) were non-physical and/or cyber-attacks and threats. In 10 cases journalists and media outlets were attacked via judicial and/or economic means, and in seven cases they were physically attacked.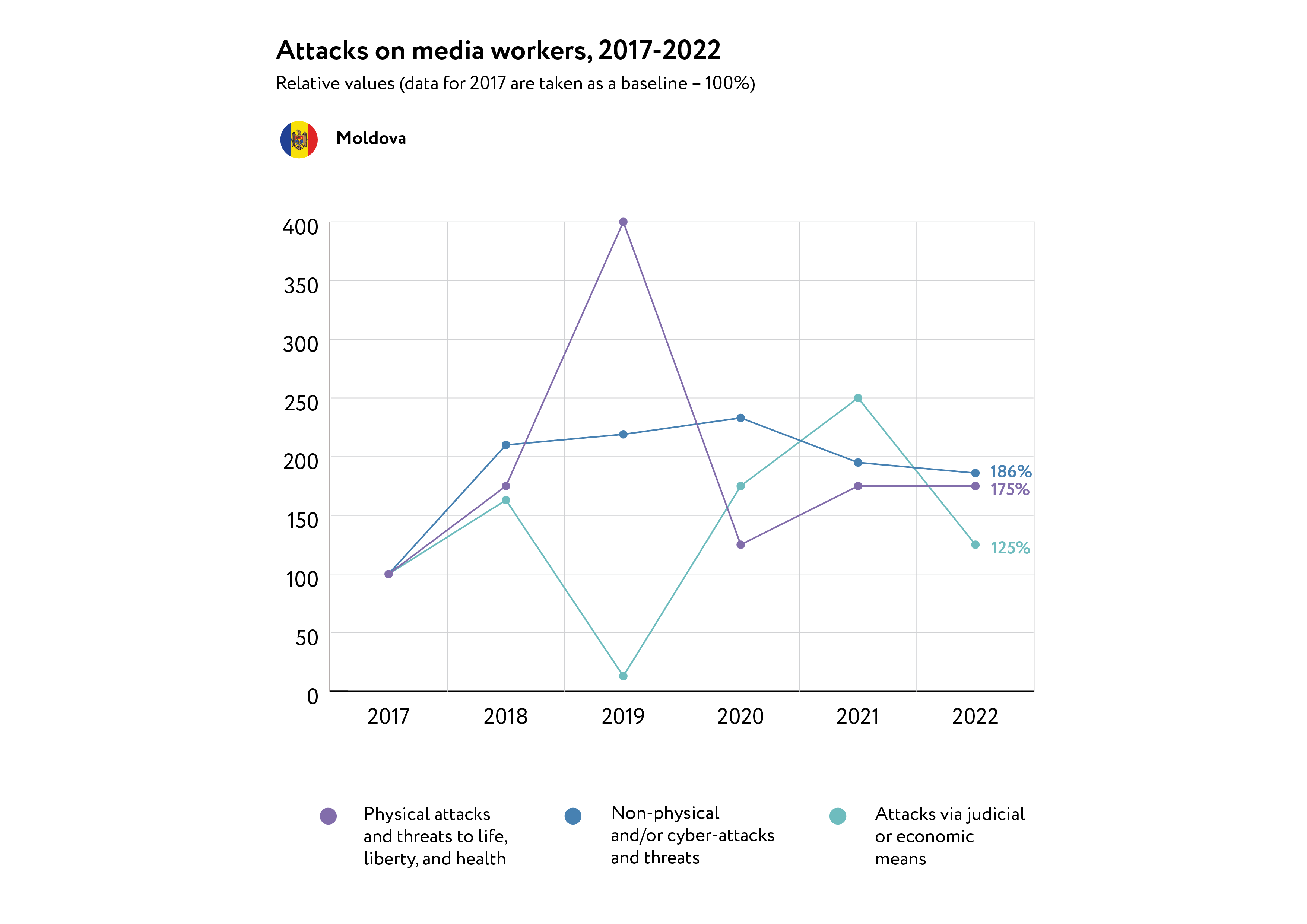 In more than 60% of cases, the perpetrators of these attacks on media workers were representatives and/or supporters of opposition political organisations (34 out of 56 cases). In 13 cases (23%) it was as a result of representatives of regional authorities and law enforcement officials taking issue with investigative publications targeting them. 8 verbal attacks (14%) were reported, mainly on social media, committed by unknown persons using fake identities to intimidate and threaten journalists with death and physical assault in what seemed to be coordinated campaigns of intimidation and defamation. Military peacekeeping personnel in the Transnistrian region were the source of one such attack. In a few cases, newsrooms and journalists became victims of cyber/ DDOS attacks and hacking attempts.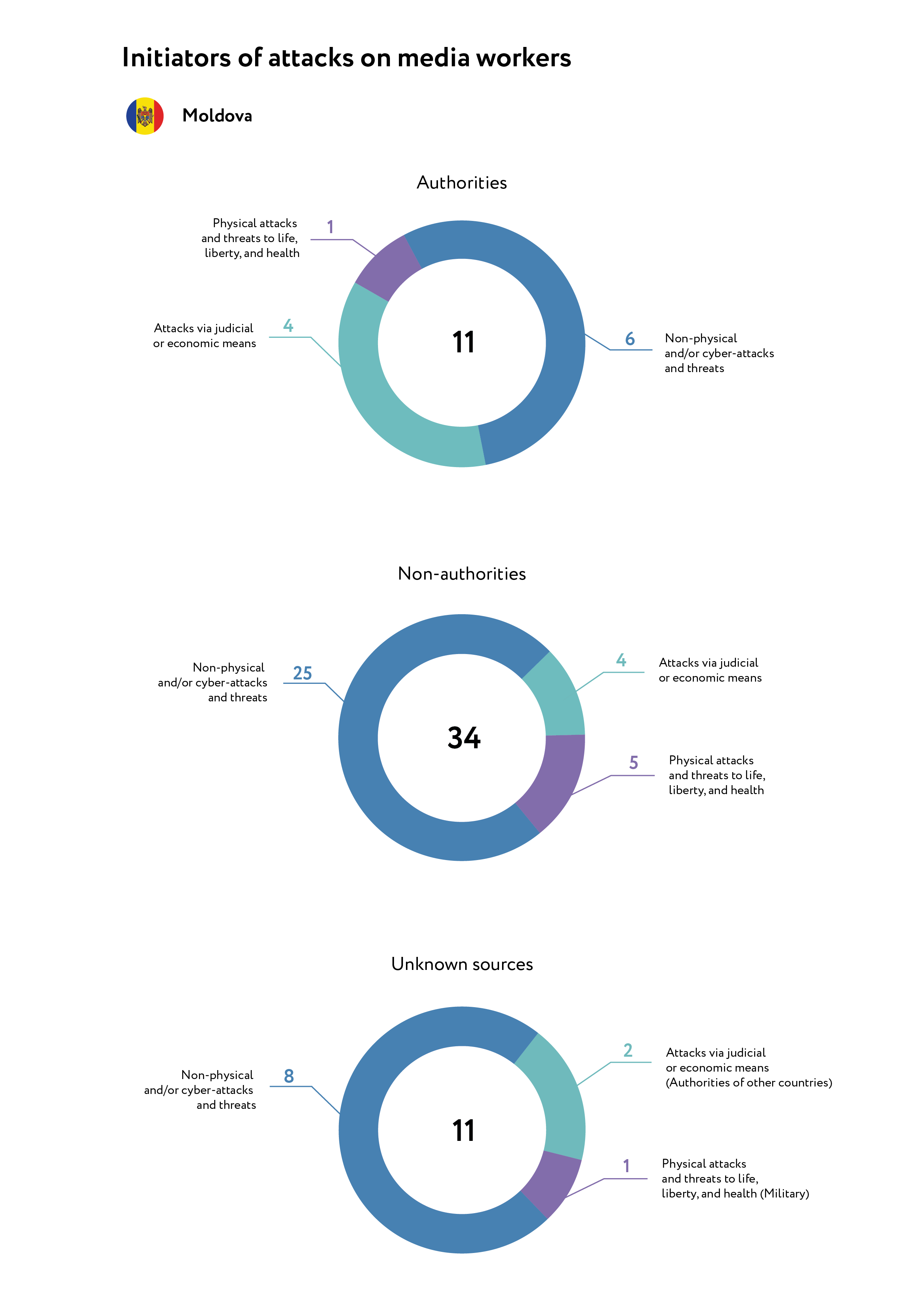 For comparison, in 2021, 35 out of 68 attacks were committed by state representatives (especially in the run up to the early parliamentary elections in July 2021) and regional politicians (deputies from the People's Assembly of Gagauzia, some heads of various districts and municipalities). In 2020, Moldovan journalists were attacked by representatives of central and local/regional authorities 56 times.
In 2022, 18 media outlets and organisations in Moldova were attacked or threatened. Most often, the targets of these attacks were employees of the Centre for Investigative Journalism and the associated Anticoruptie.md portal (14 cases). There were also cases of attacks recorded against staff of the TV channel TV8 (nine cases), the Nokta.md portal in Comrat (eight cases) and the investigative publication Ziarul de Gardă (six cases). The following TV stations also reported attacks: Jurnal TV, PRO TV Chisinau, BASTV (Basarabeasca), Publika TV, TV-Nord (Bălți), RISE Moldova, portals Newmaker.md, Nordnews.md (Bălți), Tuk.md (Taraclia), Stopfals.md, Radio Free Europe, and the Association of Independent Press.
4/ PHYSICAL ATTACKS AND THREATS TO LIFE, LIBERTY AND HEALTH
In 2022, 7 cases of physical attacks and threats to life, liberty and health were documented. This figure remained the same as in 2021.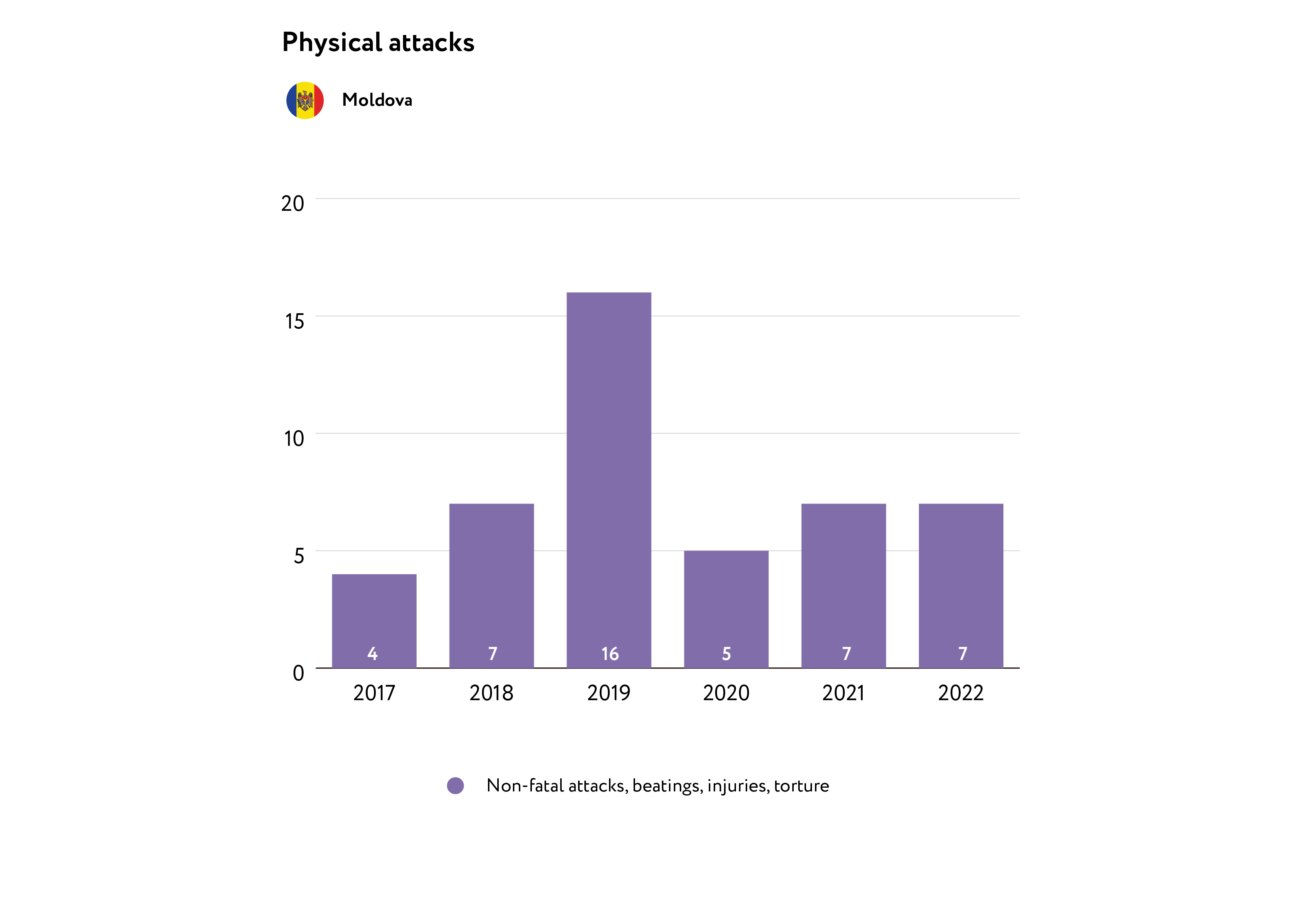 On 13 February, Publika TV journalist Angelina Ungureanu was forcibly removed from a church in the Secăreni village of the Hîncești District, where a camera crew was trying to investigate accusations that the priest had been refusing to bury people vaccinated from COVID-19.
On 16 February 2022, activist Anatol Mătăsaru, a contributor to the Anticoruptie.md portal, was physically attacked on the street while filming near a house that had previously belonged to the former director of the Intelligence Service. Mătăsaru was threatened with physical violence, the assailant seized his phone and damaged it.
On 5 July, journalist Slava Radulov of Nokta.md portal (Comrat) was forcibly evicted from a public meeting of the People's Assembly of Gagauzia at the request of the Assembly's chairman. The journalist was grabbed by the arm and pushed out of the meeting room.
On 1 August, activist Anatol Mătăsaru, a contributor to the Anticoruptie.md portal, was attacked in the hallway of a courthouse by the brother-in-law of former president, Igor Dodon, who was arrested on charges of illicit enrichment. He struck the phone that Mătăsaru was using to film in court.
On 14 August, during a live broadcast of anti-government protests in the town of Vulcănești (Gagauzia), Nokta.md correspondent Zahar Pavlioglo was attacked by two of the protesters. The journalist was insulted, and one protester pulled him by his hair.
On 15 September, the military peacekeeping personnel in the Transnistrian region banned TV8 journalist Viorica Tataru from filming and escorted the journalist away from the so-called administrative border.
On 13 November, while covering protests organised by the former political party "Șor " (which was declared unconstitutional in 2023), some protesters tried to hit TV8 journalist Andrei Captarenco when he attempted to ask them questions.
5/ NON-PHYSICAL AND/OR CYBER-ATTACKS AND THREATS
Non-physical and/or cyber-attacks and threats remained the most common form of exerting pressure on journalists in Moldova. In 2022, 39 non-physical attacks and threats were recorded, making up 67% of all attacks. In 2021, non-physical attacks made up 60% of the 68 total reported incidents. The main methods of non-physical attacks were: bullying, intimidation, pressure and defamation against media outlets or journalists (30 cases).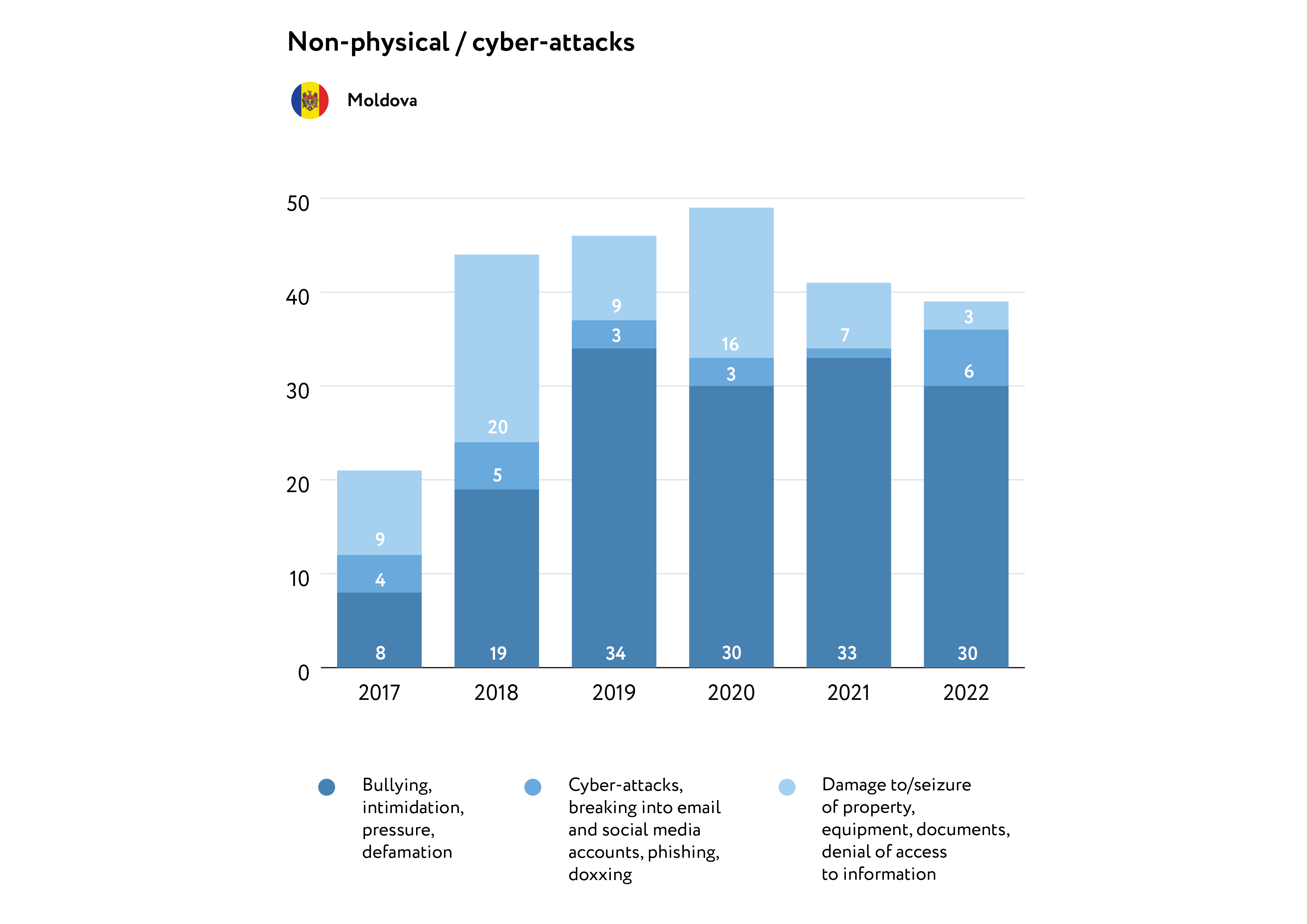 These cases include attacking journalists by discrediting them or spreading slander and insults about them (8 incidents). Some examples include:
On 12 January, former politician and businessman Cristian Rizea, who was convicted in Romania for corruption and fleeing to Moldova, insulted journalist Cornelia Cozonac in posts on his Facebook page, calling her a "parachute" (an insult used in Romanian to describe prostitutes). He called her investigative organisation the "centre for criminal journalists".
On 15 March, the former Prime Minister of Moldova, Ion Chicu, attacked Jurnal TV, PRO TV Chisinau, and journalist Lorena Bogza on his Facebook page; calling them "media dumpsters whose role is solely to serve their master (supported by the same decision-making centres)". He went on to call them "media extremists", "a media brothel which is instigating an attack on our territory – Transnistria, thus entering the war".
On 1 August, unknown individuals spread fake images on social media in order to discredit TV8 journalist Mariana Raţă and her TV show.
On 2 November, the former political party "Șor" accused investigative journalists from the independent, non-governmental organisation RISE Moldova of manipulating information and working for the ruling party.
On 3 November, during the Russia-based Forum for Media Cooperation in the Commonwealth of Independent States, Moldovan politician Bogdan Țîrdea accused a number of NGOs, including the Association of Independent Press and its campaign against fake news, Stopfals.md, of working for "the West and for George Soros".
2022 saw a large number of cyber/DDOS attacks against online resources, as well as unwarranted blocking and attempts to hack the personal pages of investigative journalists on social media (6 incidents):
On 18 September, investigative journalists from RISE Moldova reported the hacking of their Instagram account and attempts to hack journalists' personal Facebook accounts.
On 30 September, after the publication of an investigative report about protesters paid for by the political party 'Șor' (declared unconstitutional in 2023), the phone numbers of the Ziarul de Gardă journalists working on the investigation were published online, after which they were sent aggressive and insulting messages. Natalia Zaharescu's phone numberwas published online. The same day, a death threat appeared in the comments section of the publication's YouTube channel: "Someone will cut your head off, I'll answer for these words… We'll cut your head off your neck." On 27 October, a new comment was posted, saying "someone will cut off their heads".
On 2 October, Anticoruptie.md journalists' Facebook accounts were blocked due to numerous messages from fake accounts. Among the targeted journalists were Cornelia Cozonac, Julieta Savițchi and Anatol Mătăsaru. Their pages were later unblocked.
On 25 October, the Facebook page of Cornelia Cozonac, a journalist and director of the anti-corruption portal Anticoruptie.md, was blocked once again as a result of numerous messages from fake accounts. Cozonac said "Facebook told us that our posts have been reported as abusive, spam and "violating community standards". Now we cannot distribute materials about corruption, stolen public money, issues of judicial integrity, how Sor's supporters are paid at protests or about the war in Ukraine. […]Someone is trying to keep us busy so that we don't have any time to investigate corruption, to keep us blocked from Facebook, so that our materials do not reach as many readers as possible".
Other reported incidents included:
On 26 January, Newsmaker.md journalist Denis Dermenzhi received a call via Telegram soon after the publication of an article about the construction of a house overlooking a lake in the historical centre of Chișinău. The anonymous person told Dermenzhi that he should "write more carefully about such topics". After this caller hung up, their chat and account vanished.
On 3 May, journalist Nicoleta Pînzaru from Nordnews.md portal was denied access to the Rîșcani District Court while attempting to get an official comment about the protests in front of the court.
On 24 May, during a protest organised by the Party of Socialists in front of the Parliament, TV8 journalists Liubov Plămădeală and Natalia Ghețu were verbally attacked by protesters.
On 18 September, during protests organised by the former political party "Șor" TV8 journalist Viorica Tataru and Agora.md news portal journalist Irina Soltan were subjected to insults and threats of physical violence.
On 27 October, TV8 journalist Viorica Tataru who covered the protests organised by the former political party "Șor" (declared unconstitutional in 2023), received a threat on social media that she might receive "a bullet in the head" due to the questions she was asking. On 17 November she received another threat, saying that her "hands will be cut off".
6/ ATTACKS VIA JUDICIAL AND/OR ECONOMIC MEANS
In 2022, 10 cases of attacks via judicial and/or economic means were recorded (18% of the total number of incidents). Compared to the previous year, the number of such attacks fell by half. Among the publications targeted were: the Anticoruptie.md portal of the Centre for Investigative Journalism, the Jurnal TV channel and the investigative publication Ziarul de Gardă. This primarily consisted of the filing of civil cases for alleged defamation, submission of advance statements to newsrooms, as well as criminal/administrative prosecution for alleged defamation.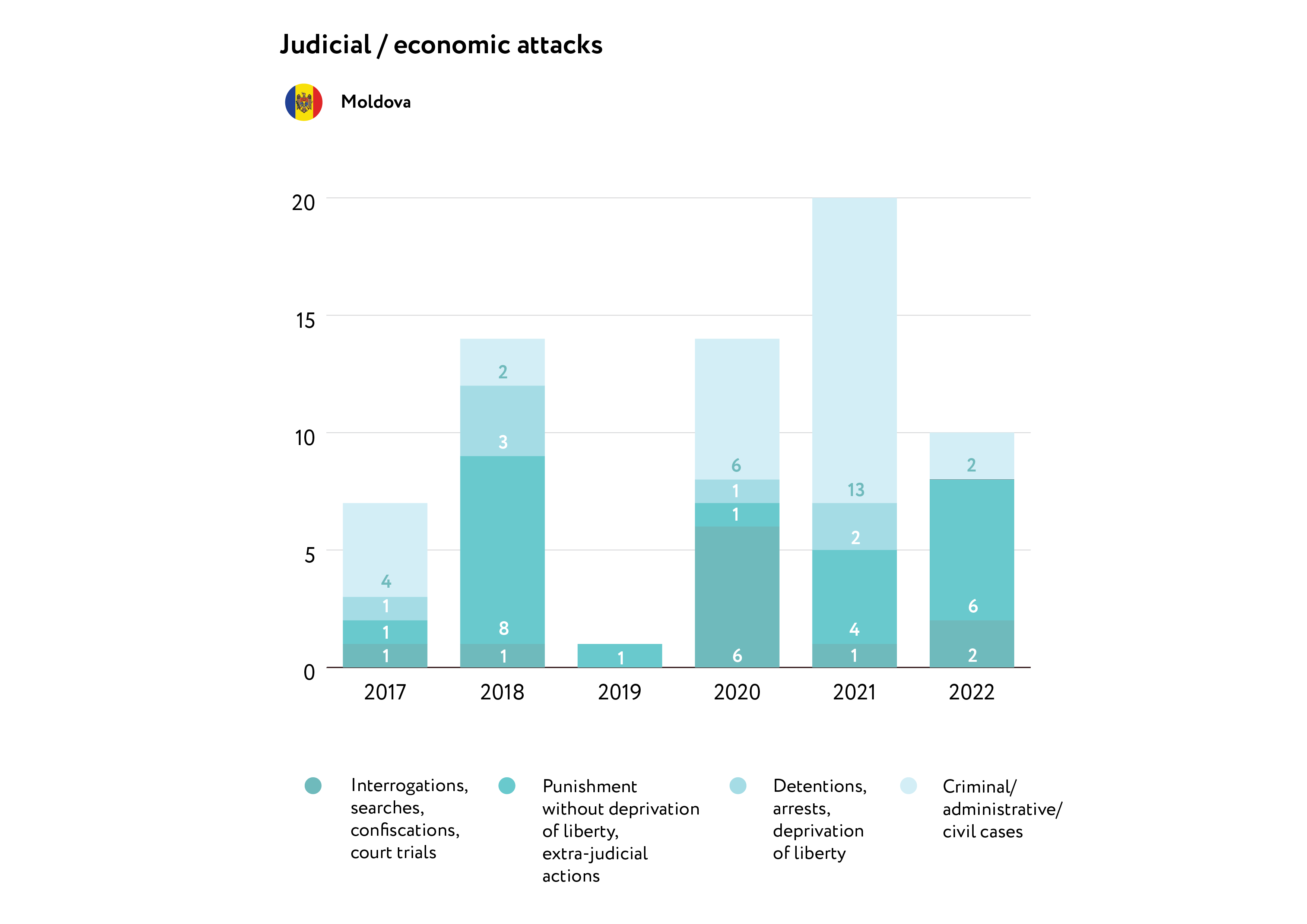 On 12 January, the Buiucani sector Police Inspectorate of in Chișinău filed an administrative case for libel against Jurnal TV after it published an investigation about a former police officer. The Inspectorate recommended that the court deprive Jurnal TV director Val Butnaru of the right to carry out his professional activities for one year. On 26 July, courts fined Butnaru and forbid him from holding management positions in the media for six months.
On 13 January, after the publication of an investigative report, the newsroom of the Ziarul de Gardă received two pre-trial complaints from the entrepreneur Alexei Ghiba, as well as the company "Cashback Pro" S.R.L (which is not mentioned in the article), demanding of they withdraw the information, make a public apology and pay 100 thousand Lei (about 20 thousand Euro) in compensation for moral damages.
On 27 January, the Chișinău District Court annulled the decision of the city Prosecutor's Office to refuse to prosecute journalists from the Centre for Investigative Journalism after the publication of a story about the fictitious divorce and undeclared properties of the prosecutor Igor Popa. This essentially means that criminal charges can now be brought against the journalists.
On 1 March, at the request of the Prosecutor General's Office of the Russian Federation, Russian watchdog Roskomnadzor demanded that the Internet providers block access to the Ziarul de Gardă website from Moldova. This followed the publication of articles about the war in Ukraine.
On 1 May, news portal Tuk.md received a warning from the Russian watchdog Roskomnadzor, in which the Russian Federation requested the removal an article about the war in Ukraine. The editorial office of Tuk.md refused to delete the article and said it will be accessible everywhere except Russia.
On 6 May, the Buiucani district Police Inspectorate of in Chișinău began preliminary investigations based on a complaint against Anticoruptie.md journalist Julieta Savițchi, after the publication of the investigation, in which she is accused of illegally hacking an electronic mail. The police asked the journalist to reveal her sources.
On 21 May, Lilian Racoviță, the protagonist of an investigation, published by the Centre for Investigative Journalism on Anticoruptie.md portal, filed a complaint with the police and in court against the author of the investigation, journalist Julieta Savițchi, accusing her of spreading slander. The journalist was summoned for a police interview, and the Chisinau District Court opened a civil case based on Racoviță's complaint.
ANNEX 1: OPEN SOURCES USED FOR GATHERING DATA (MOLDOVA)
Association of Independent Press (API) – a non-commercial organisation that promotes and assists the sustainable development of media organisations and independent journalists at national and regional level by strengthening professional capacities, increasing resilience and improving public policies in the media field.
Agora.md – an internet news portal in the Romanian language.
Broadcasting Coordinating Council of the Republic of Moldova – a regulatory authority on public and private audiovisual media in Moldova is the Broadcasting Coordinating Council (Consiliul Coordonator al Audiovizualului – CCA), which supervises the enactment of the Broadcasting Code, and issues broadcasting licenses and retransmission authorizations.
Jurnal.md – an internet news portal in the Romanian language.
Institute for Public Policy of Moldova – an independent, nonpartizan and nonprofit organization, committed to the values of individual liberty, democratic society, rule of law, free market economy.
Independent Journalism Centre (CJI) – a non-governmental organization active in protecting democracy and those who believe in its values.
National Bureau of Statistics of the Republic of Moldova – central administrative authority which, as the central statistical body, manages and coordinates the activity in the field of statistics from the country.
Nordnews.md – a regional internet news portal in the Romanian language (city of Bălți).
NewsMaker.md – an internet news portal in the Russian and Romanian languages.
PRO TV Chișinău – a branch of the Romanian television channel in Moldova.
Reporters without Borders — an international non-profit and non-governmental organization with the stated aim of safeguarding the right to freedom of information.
Rise.md – the internet portal of a group of investigative journalists.
Stopfals.md – a fact-checking internet portal in the Romanian and Russian languages.
TV8 – a nonprofit television network based in Chișinău, Moldova.
Ziarul de Gardă – a daily newspaper in the Romanian and Russian languages in electronic and print formats.
Ziarulnational.md – an internet news portal in the Romanian language.
Social networks, including Facebook and Telegram channels.