The chief of staff of former prime minister Joseph Muscat, and the man many saw as the 'power behind the throne', was granted bail last week against a deposit of €60,000 and a personal guarantee of €90,000. He'll be expected to sign the police bail book each day, and to stay away from the airport and the island's coast.
Schembri was finally arraigned on 20 March in two high profile cases involving money laundering and forged documents, but anyone who followed the work of murdered journalist Daphne Caruana Galizia knows this is just the tip of a colossal iceberg.
The last story Daphne Caruana Galizia published, less than an hour before she was killed, was titled: "That crook Schembri was in court today, pleading that he is not a crook". It dealt with a libel case Schembri filed against the Opposition leader in 2016 for calling him corrupt.
Even careful readers must be confused by the detailed testimony heard so far. Schembri alone controlled Colson Services Ltd in the British Virgin Islands, Malmos Ltd in Gibraltar, and Kasco Engineering in Malta, with bank accounts spread from Switzerland and Dubai to a bank in Malta that had connections to the country's political elite and to senior Azerbaijani officials. The initial freeze of Schembri's assets listed 91 people and companies.
He was charged with bribing Adrian Hillman, the former managing director of Allied Group — owner of The Times of Malta newspaper — to award a large contract to his company. Allied Group would go on to pay a staggering $6.5 million more than it should have for the printing machinery.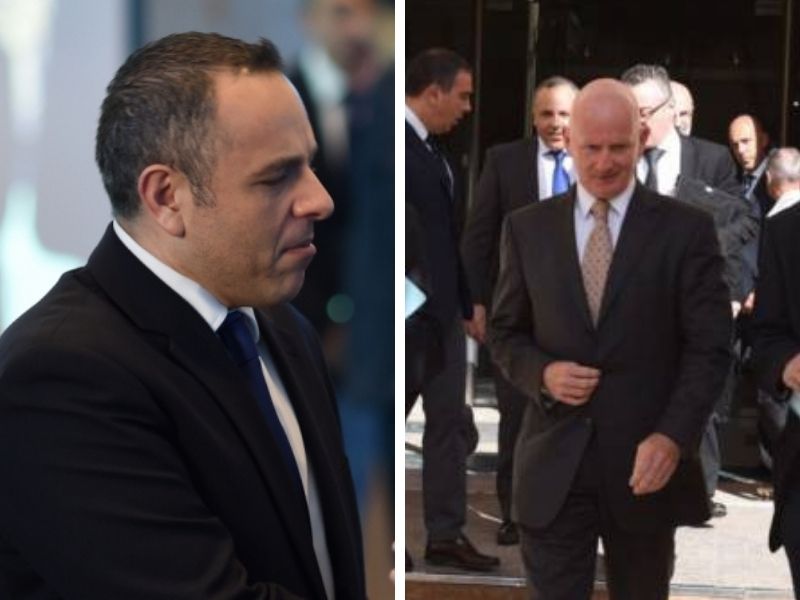 The $5.5 million in kickbacks were recorded in a detailed spreadsheet that outlined how Schembri, together with his business partner Malcolm Scerri, Hillman and Vince Buhagiar, another who occupied top positions in a long career at Allied Group. 
As money laundering squad Inspector Ian Camilleri revealed to the court, Schembri told police the payments to Hillman were made from abroad because The Times of Malta "would not have liked it" if he was giving consultancy services to Schembri's Kasco group of companies. The two men had an open agreement about services, and therefore there was no invoicing.
As the prime minister's chief of staff, Schembri had always claimed he resigned from all directorships and distanced himself from running his companies after assuming public office. He told police that Nexia BT director Brian Tonna administered his companies, and his father Alfio Schembri handed over cheques to him as 'donations' — according to Keith, this was because he was an only child. Alfio Schembri did not confirm this when questioned.
Schembri's co-accused were also granted bail last week, as were Nexia BT managing director Brian Tonna and his three associates. Adrian Hillman is the only accused who has been named in the case but not yet charged. He is in the UK facing extradition proceedings.
The complex case is likely to drag on for years. The decision to grant them bail provoked muted outrage because this is just one case in which they are being charged, among a number of scandals that have been public knowledge for years. Who can stop them from tampering with evidence when the police in Malta have failed so miserably in bringing these people to justice?
Despite the high profile court case, financial crimes might be the least of Schembri's worries. The former prime minister's chief of staff was also named in the Daphne Caruana Galizia murder trial.
The same names come up again and again:
– Joseph Muscat, the former prime minister who controlled the country's institutions through hand-picked appointees
– His childhood friend Keith Schembri, the businessman with dozens of offshore companies and accounts
– Konrad Mizzi, the minister who signed every controversial contract on behalf of the government
– Nexia BT, the accounting firm that operated in the shadows throughout the Muscat years, setting up complex offshore structures for Maltese officials, and allegedly helping conceal evidence of illicit financial transactions.
Even Adrian Hillman was given another post after resigning from Allied Group while under investigation for money laundering. He was placed on the Board of Trustees of the American University of Malta, an institute that isn't American, nor, arguably, even a university. It's owned by a Jordanian construction magnate and occupies prime public land at below market rates thanks to a deal struck with Joseph Muscat's government.
Schembri will appear in court again on 14 April, where he will face cross-examination by the lawyers of Yorgen Fenech, the man charged with financing the journalist's assassination. The businessman told police shortly after he was arrested that his friend Keith Schembri was the true mastermind.
The police are also taking a closer look at one of their own. The court heard last week that former commissioner Lawrence Cutajar's mobile phone data was requested by investigators sometime last year.
The investigation was prompted by Cutajar's admission that he held two secret meetings with a close associate of Melvin Theuma soon after investigators had decided on a plan to arrest the middleman, who they hoped would connect the three hitmen to the person who commissioned the murder.
The meetings raised concerns of "possible collusion" between the former police chief and one of the suspects.
Cutajar was the fifth police commissioner appointed by Joseph Muscat in just four years. John Rizzo, a man known for being tough on corruption, and who had arrested and prosecuted Malta's Chief Justice for soliciting bribes, was dismissed and replaced one month after Labour took power.
His daughter is now the prosecutor against those in power charged with money laundering and a list of other financial crimes.
The arrest of Schembri and his associates provided a brief glimmer of hope that justice might finally be served for the family of Daphne Caruana Galizia and the Maltese people. The hope now is that the big fish don't swim away.
The following project is weekly Maltese Roundups prepared by The Shift News (Malta) offering the latest news in Daphne Caruana Galizia case.