Malta's keynote speaker at last week's conference on combatting and preventing hate speech raised eyebrows for more than just quoting Winston Churchill out of context.
The Minister for Equality, Research and Innovation has himself been found guilty of breaching the right to free expression in a country where "free speech" is routinely used to attack critics of the government.
It's not known why Owen Bonnici was chosen to address the event, organized by the EU Commission, the German Embassy and the Conference on the Future of Europe.
As Justice Minister, Bonnici was found guilty of repeatedly breaching the fundamental human right to freedom of expression when he ordered employees of the Cleansing Department to remove the candles, flowers and tributes left by citizens at a protest memorial to assassinated journalist Daphne Caruana Galizia nearly every night for two years.
The strongly-worded judgement described the former Justice Minister's actions as a "systematic method" applied with the "thought and specific intention" of obstructing those who wanted to protest and call for justice for the slain journalist.
When asked whether he would step down in the wake of the court's decision, Bonnici replied that the decision to repeatedly eradicate the memorial was made by the entire Cabinet and not just him alone.
Prime Minister Robert Abela's response was even stranger. "Just because the court made a decision which doesn't agree with a minister," he said, "it does not mean that this results in a resignation." When he was elected Prime Minister, he did order the daily removal of tributes to stop.
In addressing the hate speech conference last week, Bonnici cited former British Prime Minister Winston Churchill's 13 October 1943 speech in parliament which said that parliamentary democracy flourishes so long as there is full freedom of speech, free elections and free institutions — a noble sentiment, except for Bonnici's taking the final sentence out of context.
Some people think free speech means they can say what they like, he said, but if anyone says anything back, "that is something which causes issues".
Anti-corruption activists in Malta and those fighting for justice for Daphne Caruana Galizia interpreted the comments as an underhanded dig at those protesting against hate speech.
"This morning, the minister who ordered my mother's memorial to be cleared every night is giving an EU-sponsored lecture on hate speech," the journalist's son Matthew Caruana Galizia posted on Twitter. "What a farce."
It may be difficult for outsiders to understand just how offensive the former human-rights-violating Justice Minister's words were in a country where the Labour government routinely weaponizes "freedom of expression" to throw the power of the State against journalists and civil society.
The public inquiry into Caruana Galizia's assassination found the Maltese State responsible for her death, in large part due to its enabling of a climate of impunity which not only practised and condoned rampant corruption from many of its ministers and officials but also operated an army of trolls to attack, dehumanize, vilify and demonize the journalist as well as other dissidents.
The inquiry's report specifically referenced a 'personal' blog by Labour MP and Whip Glenn Bedingfield, run from the Office of the Prime Minister, which was dedicated to attacking Caruana Galizia and discrediting her work.
Bedingfield admitted to the inquiry that his blog was about "retaliation" for "attacks" by Daphne, describing his posts, which included intrusions into her private life, as an "equal and opposite reaction" to her articles, and "a voice to those attacked by Daphne".
Lawyers for the Caruana Galizia family pointed out that Bedingfield was a public official attacking a journalist, but he justified his attacks as "freedom of expression".
Daphne Caruana Galizia had slammed Bedingfield's excuses in a post on her blog just months before she was killed. "When journalists criticize the government and its agents," she wrote, "that is freedom of expression. When the government and its agents use their power to attack and publicly criticize, mock, vilify and harass journalists and others, and those connected to them, that is organized oppression and a serious threat to freedom of expression."
Caruana Galizia wrote that the sole purpose of Bedingfield's blog was to threaten critics of the Prime Minister and the government, but it was far from the only instance of politicians crying "free expression" to justify deliberate attacks against their critics.
Activist Tina Urso was targeted by Labour Party trolls after protesting outside a London event organized by Malta's cash-for-passports concessionaire Henley & Partner's to promote the sale of EU passports.
Urso's personal details, private photos and home address were shared in secret Labour Party linked Facebook groups, of which senior government people — including former prime minister Joseph Muscat — were members. Members of the groups also called for Urso to be stalked and assaulted.
"Freedom of expression" is also routinely used by public officials to justify public attacks against critics of the government.
Malta's long-awaited opportunity to shine as host of the European Capital of Culture was irreparably tarnished when the chairman of Valletta 2018, Jason Micallef, mocked Daphne Caruana Galizia's last words on social media and ordered the removal of banners calling for justice for her death.
Rather than demand Micallef's resignation, then Justice and Culture Minister Owen Bonnici had claimed he was helpless to reprimand the V18 chairman because Micallef was simply exercising his right to free expression. Micallef's immediate superior, Parliamentary Secretary Deo Debattista, also said he should stay, citing Micallef's freedom of expression.
The team behind Valletta 2018's EU Capital of Culture sister city Leeuwarden-Fryslân responded by refusing to attend celebrations in Malta.
In another shocking instance of abuse of power, Sandro Mangion, private secretary to then Foreign Minister Carmelo Abela, called then-PEN International policy advisor Sarah Clarke a "biased shithole" at a United Nations conference when she pointed out that the government of Malta would have more credibility when making a statement on freedom of expression if it held an independent public inquiry into Daphne Caruana Galizia's murder — something the government was resisting at the time.
When forced to issue a grudging apology, Mangion insisted his remarks had to be taken in context. "I used those words to refer to the unscrupulous network by which she is obviously being fed unproven allegations that she kept parroting without having bothered to check her facts," he said.
Attacks against journalists and civil society activists by powerful politicians and public officials have had a chilling effect on legitimate freedom of expression in Malta, sending a message that criticizing the government will result in their being perceived as an enemy to be targeted, rather than as dissenting voice in a broader social conversation.
But the situation is far worse when the organs of the State responsible for protecting all citizens is instead seen to target its critics.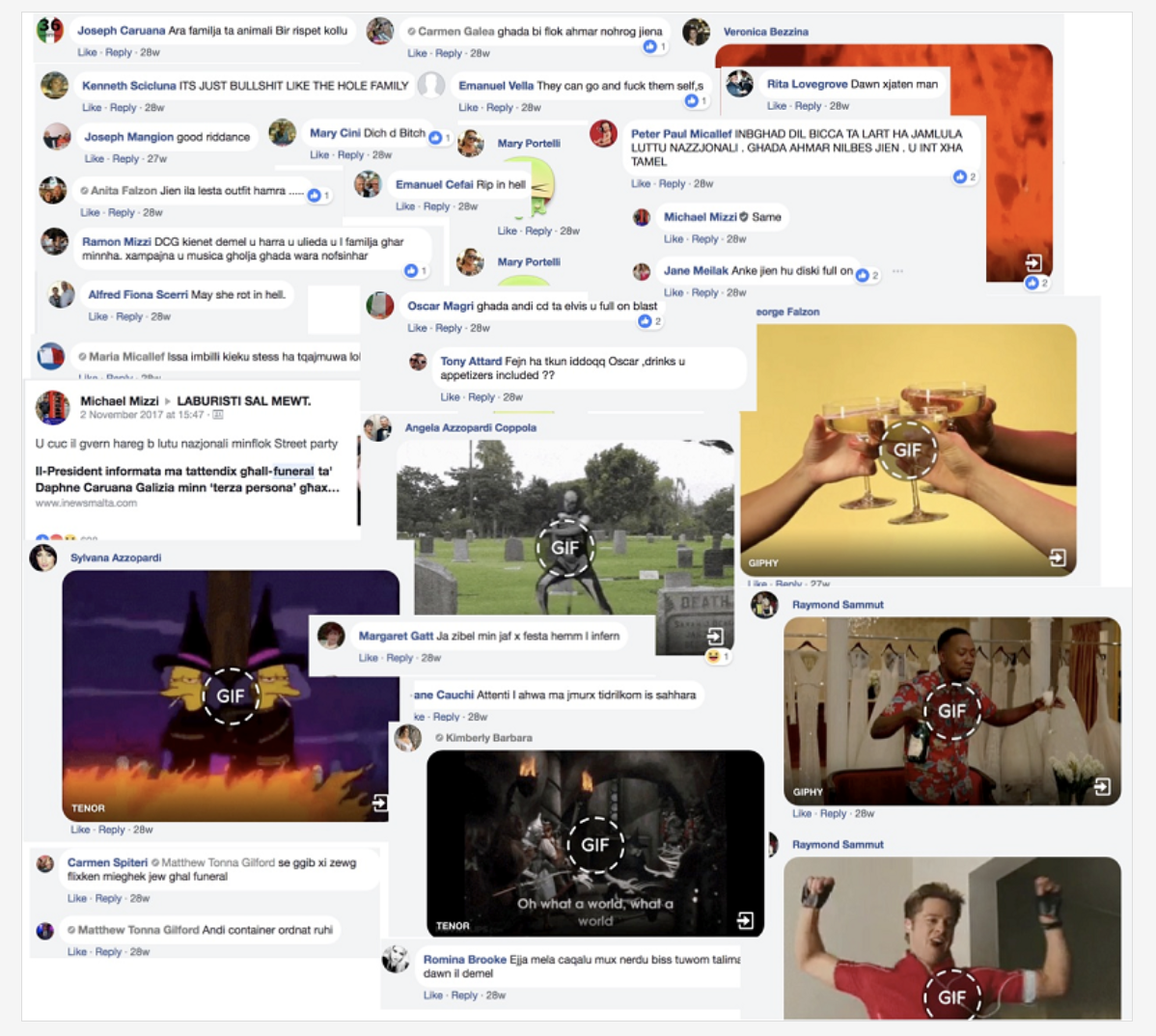 Hours after Daphne Caruana Galizia was killed with a massive car bomb, police Sergeant Raymond Mifsud posted on Facebook, "Everyone gets what they deserve, cow dung! Feeling happy :)" He would eventually be suspended on half-pay pending an internal investigation that dragged on for more than three years. Mifsud had finally left the force by February 2021, but authorities wouldn't confirm whether he was fired or allowed to retire with full benefits.
Efforts to combat hate speech in Malta are hampered by the government's use of "freedom of expression" to justify attacks against its critics, but the official bodies tasked with enforcing the applicable laws have also proven to be toothless when it comes to dealing with legitimate hate crimes.
A Hate Crimes Unit inaugurated in October 2019, failed its first challenge — responding to a barrage of racist hate on social media that called for open violence against migrants — when then Home Affairs Minister Michael Farrugia said the unit "will not be going through every comment on social media on a witch hunt and flood our courts". Former Justice Minister Owen Bonnici's prominent inclusion in last week's conference on combatting and preventing hate speech was an indication of just how little has changed in Malta since the brutal assassination of the government's most prominent critic.
The following project is weekly Maltese Roundups prepared by The Shift News (Malta) offering the latest news in the Daphne Caruana Galizia case.