8 March 2021 – Last year, at least 1129 professional and citizen female media workers from the 12 former Soviet Union counties (excluding the Baltic States) were subjected to attacks for their work. Belarus was the record setter, closely followed by Russia, and Ukraine saw the third largest number of the attacks.
During this year three female journalists lost their lives: two in Russia (Irina Slavina, KozaPress, and Natalia Michurina, Vostochno-Sibirskaya Pravda) and one in Belarus (Lubov Zemtsova, "Unknown Belarus" project).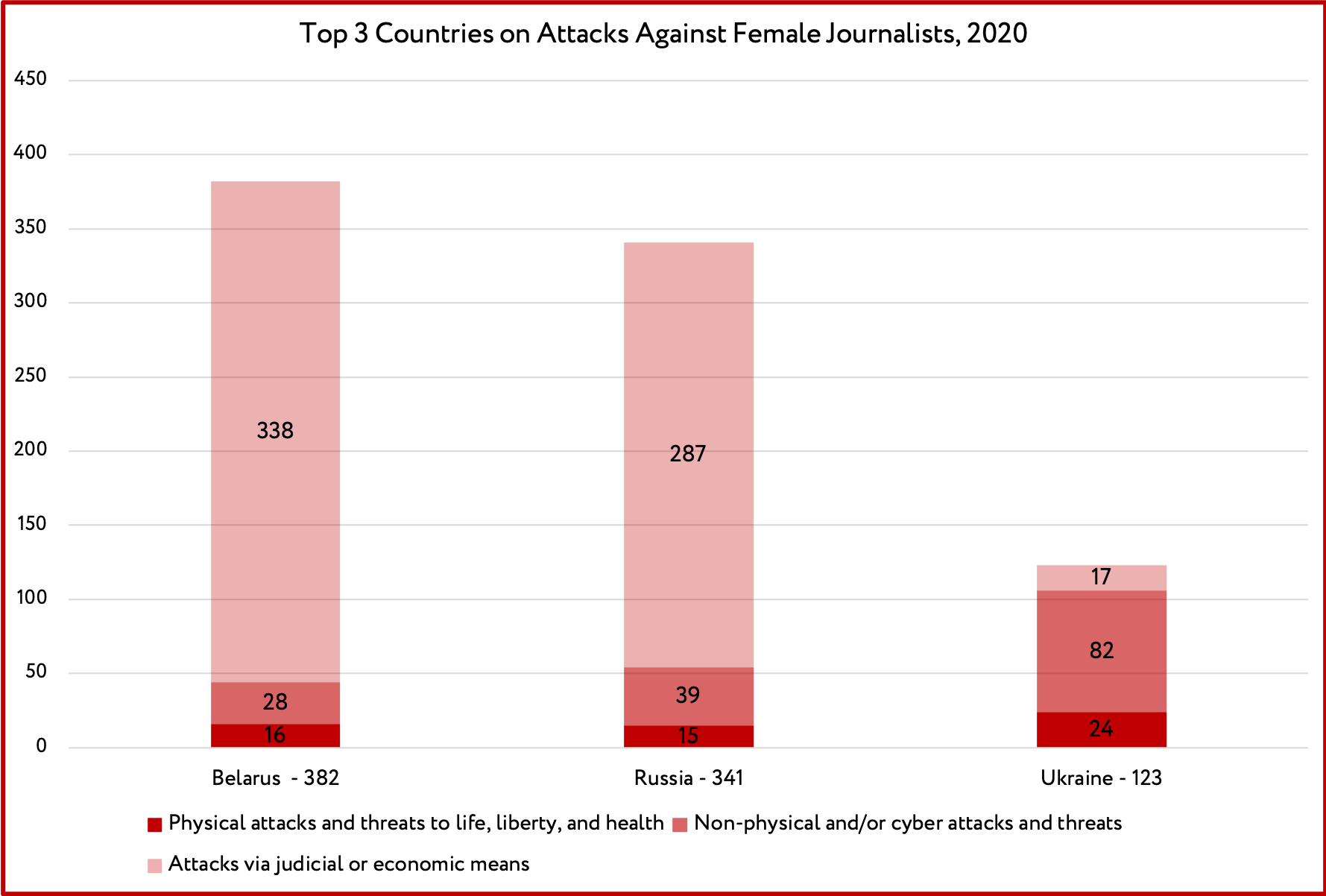 In relative figures, Belarus was the most dangerous of all post-Soviet states to be a journalist: its risk index (calculated as the number of attacks per 100 thousand people) is 14.61. Uzbekistan has the lowest risk index – 0.37. For Turkmenistan, valid calculations are impossible due to the almost complete informational isolation of this country.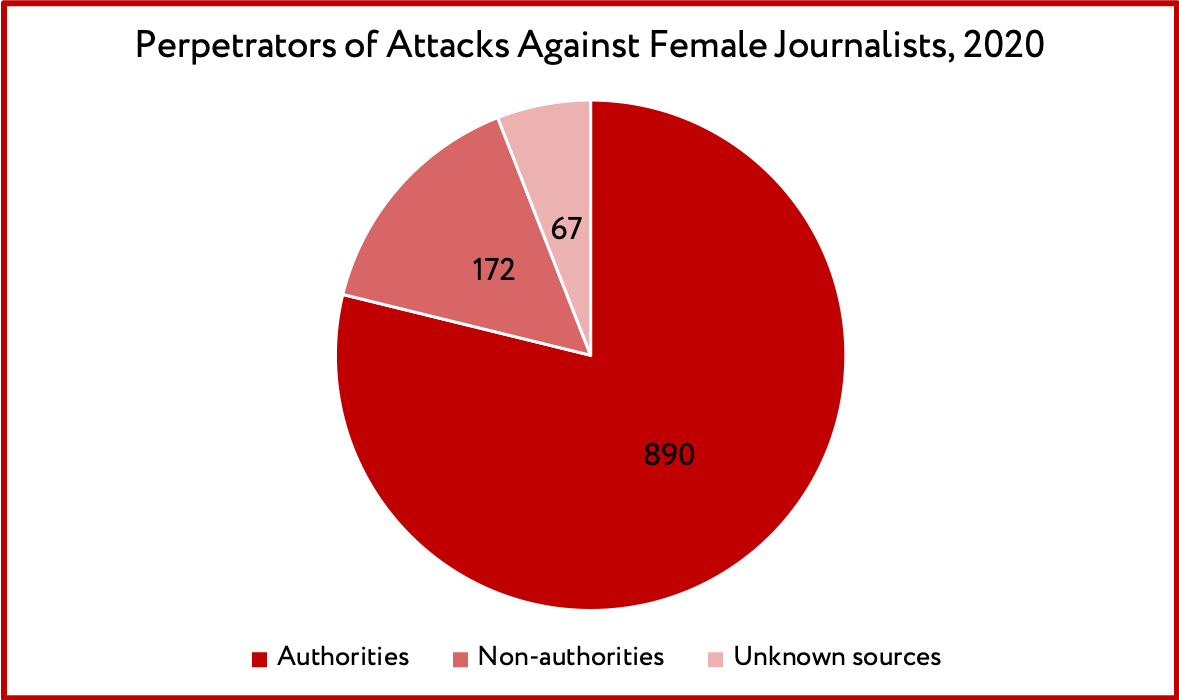 In 79% (887) cases the representatives of the authorities were behind the attacks against female journalists.
In absolute figures, Belarus saw the largest number of attacks – 382. 11 female journalists were shot, stunned by flash-bang grenades or beaten up while arrested during their work to cover the protests. 107 cases of detentions (up to 24 hours) and 48 arrests (24 hours and more) were registered. In 96% of incidents, the perpetrators of the attacks against female journalists working in Belarus were the representatives of the authorities, such as militia, riot police and other state security services.
The attacks against the following female journalists were especially numerous and harsh:
Larissa Shiryakova (Belsat, freelancer) – 26 attacks, including 10 fines, two detentions, laptop seizure, two arrests.
Ekaterina Andreeva (Belsat, journalist) – 16 attacks, including two fines, two detentions, two arrests, seizure of professional equipment, house search. On February 18, 2021, Ekaterina Andreeva and her colleague, another Belsat journalist Daria Chultsova, were sentenced to two years in the prison colony.
Alina Skrabunova (Belsat, freelancer) – 14 attacks, including four fines, three detentions, one arrest.
Russia saw the second largest number of attacks with 341 female journalists affected. In 84% the attacks constituted detentions, fines, administrative protocols, trials and other methods of judicial and economic harassment. At least 60 detentions and arrests of female journalists took place during the solidarity and protest rallies in support of arrested journalists Ivan Saphronov and Ilya Azar in Moscow, and governor Sergey Fourgal in Khabarovsk.
On 2 October 2020, Irina Slavina, founder and Editor-in-Chief of the Nizhny Novgorod KozaPress news website, committed suicide by self-immolation, having accused the Russian Federation in her death in her last Facebook post. Systematic harassment of Ms. Slavina continued for several years and included several civil legal cases, fines, insulting flyers distributed in her block of flats, regular denunciations and checks. At 6 am on October, 1, her house was searched and all her and her family members' computers, smartphones, data storage drives and reporter notebooks were taken. Simultaneously, her KozaPress website was down due to DDoS attacks.
Another systematically assaulted journalist is Natalya Zubkova, founder and Editor-in-Chief of the Kiselevsk News web-site. She gained global recognition after featuring a video-address of Podzemgas citizens asking Canadian Prime-Minister Justin Trudeau for an asylum on the grounds of the catastrophic environmental conditions in their home town. She and her children received death threats, Mrs. Zubkova also faces several civil legal lawsuits, and her news site is regularly under DDoS attacks.
Among other professional and citizen journalists who faced systematic physical, non-physical and judicial assaults and threats in 2020 were Malila Dzhikaeva (Instagram blogger from North Ossetia), Yekaterina Ishenko (Sota.Vision), Vera Oleynikova (Telegram chanel Flowers for Volodya), Maria Magdalena Tunkara (Instagram blogger YoungMasha), Elena Milashina and Elena Kostyuchenko (Novaya Gazeta), Miriam Alieva (Diaries of a Highlander Girl), Daria Sivukhina (TV channel Zlat-TV).
Ukraine had the third-largest number of attacks against female journalists in 2020 with 124 recorded incidents. 20%(25) of all attacks were physical: the journalists were beaten up to prevent them from reporting. Two-thirds of incidents (82) were non-physical and cyber-attacks, including seizure and damage to equipment, harassment, violence and death threats. 
Katerina Sergatskova, journalist and co-founder of the Zaborona news web-site, was subjected to online doxxing and trolling: her home address and the photograph of her five-year-old son were published on the Facebook. The online trolling and smear campaign against the journalist was coordinated.
Independent investigative journalist Lubov Velichko saw a cyber-bullying attack on her Facebook page from a number of real and fake accounts. She has also been subjected to surveillance and constant death threats. A woman featuring in one of her investigations about an online casino has filed a lawsuit against her.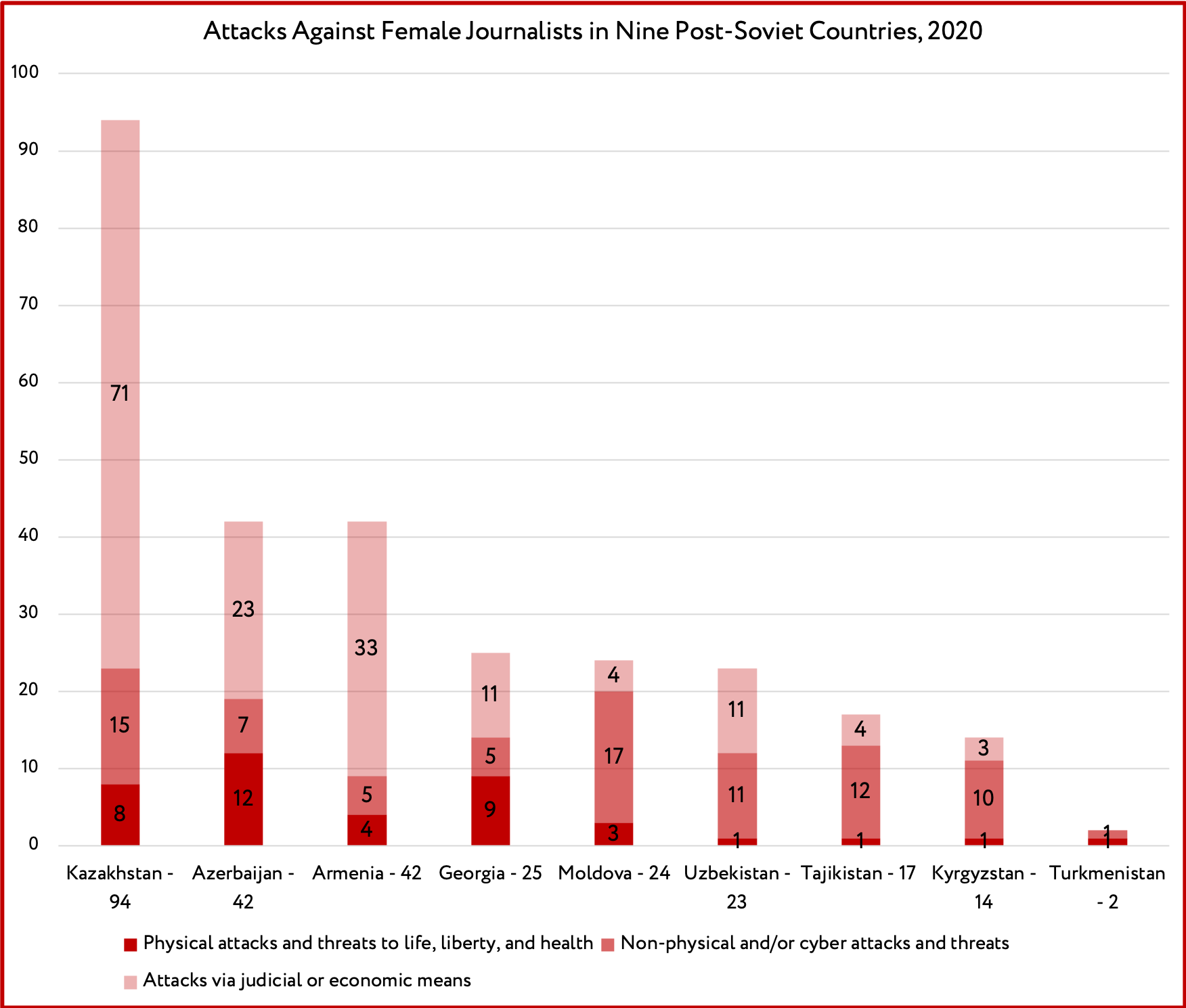 The following female journalists were subjected to the most intense attacks for their work in these countries:
Kazakhstan
Blogger and journalist Aygul Utepova – eight attacks, including accusation in the liaison with a forbidden extremist organisation, arrest, property seizure, enforced incarceration in a psychiatric ward, followed by a home arrest.
Azerbaijan
Sevinj Abbasova (Vaqifqizi), Meydan TV – six attacks, including beating by the police, detention, trial, defamation lawsuit.
Aysel Umudova, Meydan TV – five attacks, including beating by the police, damage to the professional equipment, detention, seizure of work materials.
Armenia
Anna Gevorkyan, director of Hzham.am news site – 10 attacks, including five defamation lawsuits.
Uzbekistan
Sabina Bakareva, gazeta.uz journalist – three attacks, including a fine for cycling during the quarantine.
Blogger Kamola Mazhidova –15-day arrest for shooting a video "When coronavirus leaves Uzbekistan" next to the statue of Amir Temur during the quarnantine and ignoring the rules of behaviour in public.
Tajikistan
Nisso Rasulova, journalist with the Tajik Radio Liberty, was kidnapped by unknown people on the street following her attempt to organise a meeting of feminists with several colleagues. After her friends raised an alarm on the social media, her kidnappers left Rasulova in the suburbs, far from Dushanbe.
Makhina Davlatova and Saodat Ismoilova saw their personal data, including dates of birth and addresses, disclosed in the documentary called "The Treason" aired on the central state-owned TV-channels.
Moldova
Mikhaela Dikusar form TV8 TV-channel was attacked by the state security officers, who physically prevented her from interviewing Igor Dodon, the president, in the course of two different public events.
Georgia
Darina Kamadadze from On.ge news web-site was attacked by an unknown member of European Georgia political party, who threatened her with a gun and prevented her from taking photos.
Turkmenistan
Gurbansoltan Achilova, the 70-years old reporter for radio Azatlyk (Turkmen service of Radio Liberty) was attacked by a policemen. Screaming that the journalist was "against the state policy", he attempted to seize her camera. Ms Achilova managed to escape uninjured.