The man on trial for the October 2017 murder of Maltese journalist Daphne Caruana Galizia has been charged with attempting to import unlicensed weapons and ammunition using cryptocurrency purchases on the dark web.
The additional charges came days after Yorgen Fenech, one of Malta's richest men, was indicted on charges of complicity in murder and criminal association, for which he faces a possible life sentence.
In a recent court sitting to decide whether or not Yorgen Fenech would be granted bail, deputy attorney general Philip Galea Farrugia described Fenech's attempt to buy two grenades, a Glock pistol and silencer, two Scorpion submachine guns, and 800 rounds of ammunition on the dark web using five different cryptocurrency wallets.
This raised concerns and questions about whether others were to be killed since Daphne Caruana Galizia had already been assassinated a year earlier.
Fenech made the purchases in November 2018, days after an investigation by Reuters revealed he was the owner of 17 Black, a mysterious offshore company that Daphne Caruana Galizia had linked to the government's controversial Electrogas power station deal.
The journalist knew 17 Black had been set up to funnel kickbacks to similar entities owned by Malta's energy minister and the former prime minister's chief of staff, but she was murdered before its owner was revealed to be the primary mover and investor in the power station deal.
The State prosecutor said Fenech received an email during this same period stating that a 20g shipment of potassium cyanide had been sent to him that morning. Investigators know Fenech attempted to buy 1g of potassium cyanide for $2,098 in April 2019, employing a username and password to access dark web pages for the potential purchase of enough poison to kill an adult male weighing 80kg.
It has also been reported that he bought five spy cameras on the day his ownership of 17 Black was exposed, with an additional spy camera and a new iPhone purchased two days later.
News of these alarming transactions first came to public attention when Counter Terrorism Unit Head George Cremona testified at the public inquiry into Daphne Caruana Galizia's assassination.
Cremona told the board that the United States Department of Homeland Security contacted him when investigating dark web purchases of firearms, ammunition and a silencer, to be delivered to "George Fenech, 21st-floor Portomaso, St. Julians". George is the name of Yorgen Fenech's late father, who died in 2014. US investigators also traced online searches for the deadly poison ricin back to a device owned by Yorgen Fenech.
It is not known why the defendant was trying to acquire these weapons and poisons, but Caruana Galizia family lawyer Jason Azzopardi told the inquiry board, "It was the same period when they knew [middleman] Melvin Theuma was going to be arrested."
Melvin Theuma turned State's witness soon after his arrest and is testifying against Yorgen Fenech, aided by 'secret' recordings he made of his conversations about the murder with others.
In July 2020, while in police custody, Melvin Theuma was found with a slit throat and a further six stabs to his abdomen, as well as cuts to his wrist.
Medical practitioners at Mater Dei hospital said on condition of anonymity: "His neck was in two pieces. The bottom of the thyroid was hanging loose. His jugular vein was severed." His airway was punctured. The effect was that he could not speak, just as he was about to testify.
Both the police and Melvin Theuma insisted the severe injuries were self-inflicted. A magisterial inquiry on the case has not been concluded.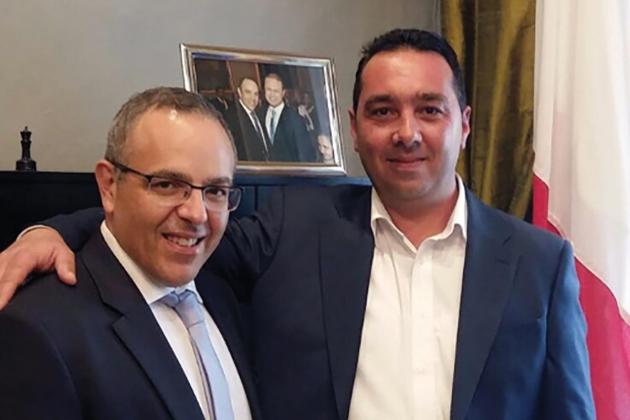 Melvin Theuma eventually recovered and started to testify, with difficulty, against the man accused of commissioning the murder of Daphne Caruana Galizia.
Fenech pleaded not guilty to charges of acquiring unlicensed weapons, and was returned to Corradino prison, where he has been held since his arrest in November 2019.
This latest arraignment took place on what would have been Daphne Caruana Galizia's 57th birthday, as social media was flooded with tributes by those who knew her, worked with her, and campaigned for justice after her assassination.
PEN International announced a collection of poems to commemorate the day, which President Jennifer Clement described as a "tribute to [Daphne's] courage and bravery" and a reminder of the relentless threats she and her family have endured and continue to endure.
"Daphne Caruana Galizia was targeted because of her work," Clement said, "because she dared to express her opinions, because she refused to be silenced. She stood up against the highest levels of corruption and paid the ultimate price."
The European Centre for Press and Media Freedom called for full justice for the slain journalist, and an end to the "continued impunity for this horrible crime."
Maltese civil society group Occupy Justice said, "She should be here celebrating her birthday with her family. Nothing we can do will bring her back. All we can do is continue to fight for justice for Daphne and her stories. Thank you, Daphne. You inspired many voices to speak out."
The public inquiry released its official report on the Caruana Galizia assassination at the end of July, finding disgraced former prime minister Joseph Muscat and his Labour government responsible for creating the climate of impunity that resulted in the journalist's death.
The 400+ page report cited wide-reaching failures in every part of the administration, State, government, Cabinet, and law enforcement that culminated in a collapse in the rule of law and a culture of total impunity.
Prime Minister Robert Abela apologised to the Caruana Galizia family "for the State's shortcomings", as demanded by the inquiry board, but was careful to distance himself from the findings, and failed to commit to a specific plan for implementing the board's recommendations.
No reforms have been announced since its publication a month ago, and no action has been taken against anyone identified as being responsible or having failed to do their job.
Court proceedings against the alleged hitmen, bomb makers and mastermind are still ongoing nearly four years after Daphne Caruana Galizia's brutal assassination by car bomb, but investigations are far from complete.
No politicians have been indicted in connection with the murder, or the countless cases of corruption the journalist exposed in her work.
The following project is weekly Maltese Roundups prepared by The Shift News (Malta) offering the latest news in Daphne Caruana Galizia case.