Did the prime minister of Malta know who killed Daphne Caruana Galizia all along? And was his chief of staff involved in it?
Yes, according to statements made by accused mastermind Yorgen Fenech shortly after his arrest.
One of the lead investigators took the stand this week as the compilation of evidence against Fenech continued with a tense court session that saw heated exchanges between Fenech's defence lawyers and the police.
Previous testimony by doctor Adrian Vella had already revealed that the business tycoon had no intention of taking the fall alone. "If I go down," he had said, "everyone goes down with me."
Inspector Kurt Zahra told the court that killing the journalist hadn't been Fenech's idea.
According to the accused mastermind, it was Keith Schembri, the former prime minister's chief of staff, who told him to "find someone to kill Daphne Caruana Galizia".
Schembri brought it up multiple times, both directly and indirectly, as far back as 2014. And he wanted Fenech to finance the assassination. Fenech was central to an energy deal involving three of Malta's business families, as well as Azerbaijan's SOCAR and Germany's Siemens, that would see taxpayers pay "hand over fist" for energy supply guaranteed for 18 years.
Allegations of kickbacks to those at the Head of government have repeatedly surfaced. Daphne was investigating this deal before she was assassinated.
Keith "wanted to get rid of" the journalist, Fenech said, because "she was a lot of trouble".
When Fenech told him he'd found hitmen to do the job for €120,000, the former chief of staff replied, "Mexxi, mexxi,mexxi" ('Go, go, go'), the police inspector told the court based on Fenech's testimony.
Fenech also told police that Schembri had paid €85,000 to middleman Melvin Theuma in connection with the killing.
"There were three persons who knew this after the murder…," he said. "(Former Prime Minister) Joseph Muscat, Adrian Vella and Johann Cremona (who has links to Fenech's casino empire)".
Fenech gave police four statements when he learned that his request for a pardon had been denied. During his interrogation, he confirmed that Schembri had passed him information about the progress of the investigation, including the fact that his phone was tapped. He was told he was being tracked, and it would be better if he 'stays careful'.
But he didn't feel the need to be careful. As he'd told Melvin Theuma, Fenech knew he'd be safe as long as Muscat's governing Labour Party was in power.
Theuma's arrest changed everything. The middleman was about to be granted a pardon in exchange for turning State's witness. And he had dozens of hours of secret recordings of himself and Fenech discussing the assassination.
He was arrested last November while leaving Portomaso harbour in his yacht Gio. Testimonies revealed that the editor at The Times of Malta had been tipped off about his departure. This raised questions by defence lawyers about whether Fenech's escape had actually been a frame up to divert attention from those in power involved in commissioning the assassination.
One of the last people Fenech called before his departure was Schembri, according to phone records. Inspector Zahra also confirmed that police had found chats with the former Prime Minister on Fenech's mobile.
Fenech claimed Muscat had spoken to him twice about the case. First at Castille, the building that houses the Office of the Prime Minister, where he said Muscat asked him if he trusted middleman Melvin Theuma.
"Not really," he replied, "because he's recording me".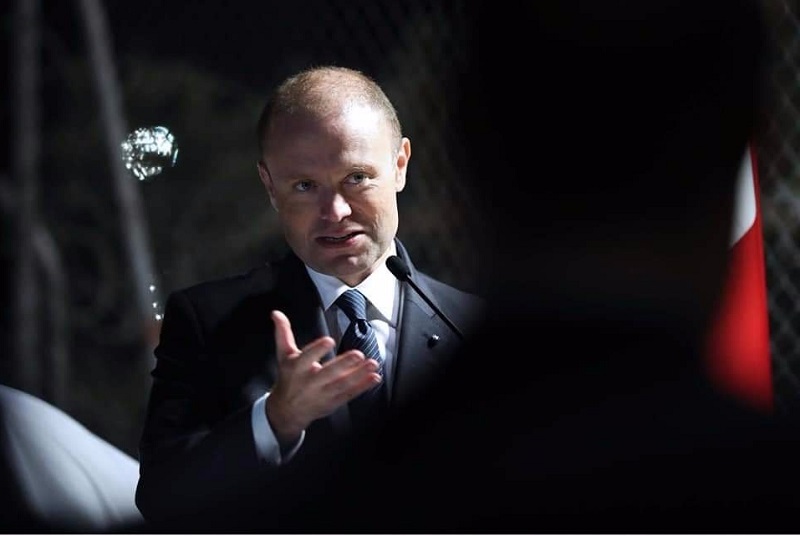 The two met again when Fenech was invited to Muscat's private birthday party early in 2019, an event to which even Cabinet members were not invited. It took place after the prime minister had been informed by police that the businessman was a suspect.
Fenech also claimed Muscat had warned him in the summer of 2019 that the police were planning a raid on Theuma.
The birthday party caused a minor scandal at the time, when a video was posted on social media showing the prime minister, his wife and their friends hosting a booze-fuelled private bash in the former chapel of Girgenti palace, a country retreat for the serving Prime Minister. The Muscats were filmed clutching a bottle of champagne, jumping up and down while singing along to the words, "You can't touch our Joseph!"
And for the three years that passed since Daphne was killed by a car bomb, that has proven to be true.
Muscat denied everything, of course. All such claims by Fenech were nothing more than a plot to 'tarnish his reputation'. It's the same line citizens have heard on all evidence of corruption in government revealed by journalists over the last five years.
The disgrace former prime minister took to Facebook immediately after last week's hearing, posting a detailed refutation of the testimony on his personal page.
As for claims that he had tipped Fenech off, he wrote, "This is impossible because, as it was shown from the police's own testimony, discussions and thoughts on any raids were done quite a while after the period when the alleged meeting was said to have taken place".
The former prime minister has always been very careful with his words.
When Daphne published what may have been her most electrifying story — that the mysterious third Panama company opened within hours of the Labour Party's 2013 election was owned by Muscat's wife — the prime minister's denials took a similarly legalistic tone.
Rather than express outrage at the morality of the act he was being accused of, he said, "We never signed any type of document which transfers shares of a company. I have never signed, never been offered to sign…"
He assured the nation he would resign "if even a shred of proof" were found that he or his wife owned secret offshore companies. Then he set up an investigation on his own limited terms that has been widely criticised by top legal experts. Meanwhile, he defended his chief of staff and his energy minister, Konrad Mizzi, who had been clearly exposed in the Panama Papers.
Every time Joseph Muscat drew a line in the sand — when people demanded the resignation of Schembri or the corruption-plagued Mizzi — and his line was crossed, he rubbed it out and moved it somewhere else.
Both Muscat and Schembri's names have come up multiple times in Theuma's secret recordings, but apart from questioning Schembri twice last December, nothing was done about it.
Police Inspector Keith Arnaud told the court that Schembri is still being investigated.
As for former prime minister, he had never been questioned by police — until last week.
Muscat was called to the police headquarters on 21 August to answer questions related to Fenech's claim that the former prime minister had asked him if Schembri featured in Theuma's recordings.
He emerged from the depot nearly two hours later with his lawyer Pawlu Lia, telling journalists the police had assured him he was not a suspect.
After last week's dramatic testimony, the question is: does anyone believe that?
The following project is weekly Maltese Roundups prepared by The Shift News (Malta) offering the latest news in Daphne Caruana Galizia case.