The most recent government official to appear before the public inquiry into the assassination of Daphne Caruana Galizia was another Cabinet member "keen on passing the buck".
That's how a visibly frustrated Chief Justice Emeritus Joseph Said Pullicino characterised the testimony of Energy Minister Michael Farrugia.
Farrugia was Minister for Home Affairs in former Prime Minister Joseph Muscat's disgraced regime. He was responsible for both the Malta Police and the Security Services, but he claims to know nothing about the corruption allegations that plagued every major government project.
He is the third Minister to testify before the public board of inquiry after Finance Minister Edward Scicluna and Foreign Affairs Minister Evarist Bartolo.
Farrugia told the inquiry that he didn't get involved in the details of police investigations when he was Home Affairs Minister. "My role is to give police all the necessary tools," he said, "not to investigate".
He didn't even know if police were investigating Konrad Mizzi and Keith Schembri, the two top officials exposed in the Panama Papers. They weren't, as we know from testimonies by the former Head of the Economic Crimes Unit in the police force.
Schembri's name has come up multiple times in the compilation of evidence against accused murder mastermind Yorgen Fenech.
When asked whether he was aware Muscat's chief of staff attended briefings by police and the security services on the progress of the Caruana Galizia investigation, Farrugia again claimed ignorance, saying he didn't ask about them.
"That was part of the prime minister's remit," he said.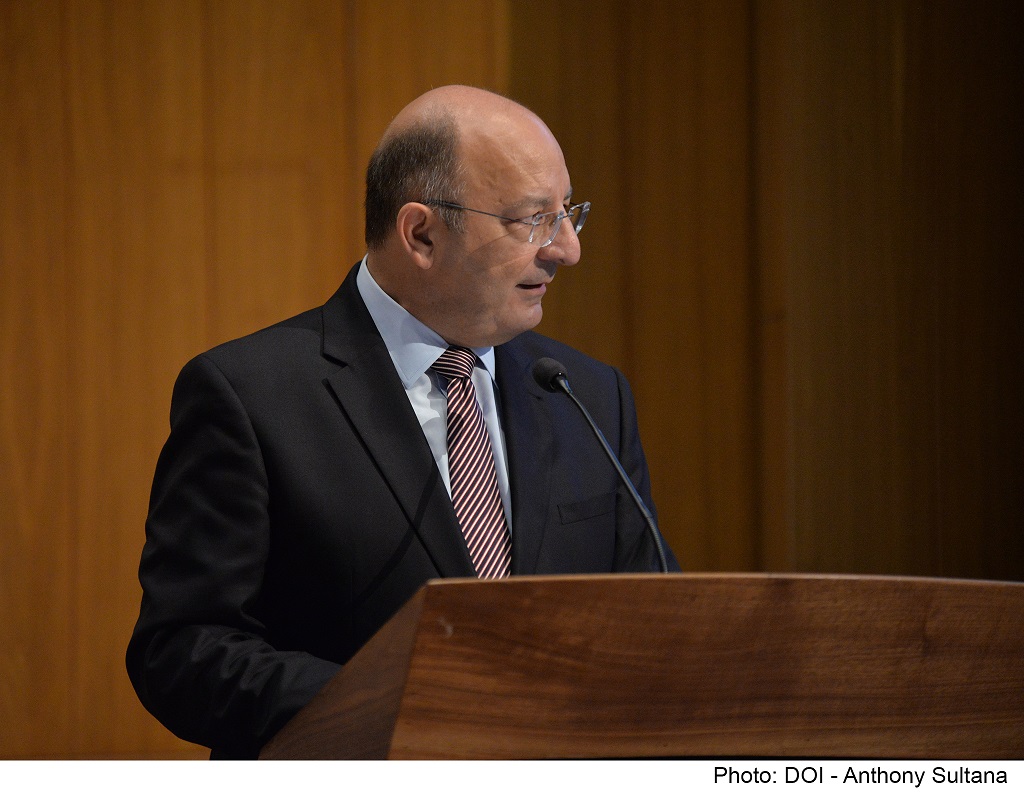 We've seen the same pattern play out with witness after witness. Each minister or official claims to have worn blinders, like a horse walking down a busy street. They only saw exactly what they were responsible for seeing, and only within their own departments. Whatever else may or may not have occurred had nothing to do with them.
No matter what shocking revelations they read in the press, no matter what Daphne exposed on her blog, and no matter what the entire country was talking about, they saw nothing — and they knew enough not to ask questions.
Someone must have been responsible for these rampant — and carefully documented — cases of corruption. If it wasn't any of these ministers or officials who testified, then who could it have been?
Finance Minister Edward Scicluna pointed at what he called a 'kitchen cabinet' that really ran the government. They're the same people witnesses like Farrugia keep refusing to name: Muscat, Schembri and Mizzi.
Unfortunately, being a Cabinet Minister doesn't just entitle one to a government paycheque and a generous car allowance, among other perks. It also comes with collective responsibility for decisions taken by that Cabinet.
When Judge Said Pullicino pointed this out, Farrugia insisted he had been unaware of numerous decisions taken by his government – sometimes even decisions on issues that fell under his responsibility.
He claimed Cabinet Members were only provided with briefs — "concept and principles" — on major projects likethe Electrogas energy deal and the hospitals' privitisation deal, but they were never shown the contracts that others signed in their name.
The Judge replied that "it's always the same story", and having a Cabinet which doesn't vet transparency is the "yeast for corruption".
"Nobody should expect Cabinet to vet a lengthy contract and all its details," Farrugia insisted. "That's for the relative minister, the permanent secretary and all related structures to do".
The Energy Minister — formerly Home Affairs Minister — went on to defend the Electrogas project, saying if any "concrete evidence" of wrongdoing is found, he would be the first to support taking action against it, but "there needs to be concrete proof, and then action should be taken."
This same line of reasoning has been used since 2016 to defend inaction by the authorities, despite ample evidence of wrongdoing having been published.
As for the notorious "Panama Papers Two", Mizzi and Schembri, the minister formerly responsible for police couldn't confirm Muscat's oft-repeated claim that the two men were being investigated, and therefore no action could be taken against them 'until the outcome of the magisterial inquiries'.
Farrugia described Mizzi as "politically naïve" for having opened a secret offshore structure immediately after his government took power, and he claimed Schembri "always gave sound advice". Well, that's ok then and let's just sweep the rest under the carpet.
And what of the "kitchen cabinet" Finance Minister Scicluna had cast all blame on while he was under oath? Farrugia knew nothing.
This protective veil of ignorance was so pervasive that Farrugia claims the Cabinet wasn't even informed of the May 2017 snap election call until Muscat announced it to the press. But previous testimony revealed that accused mastermind Yorgen Fenech knew it was coming as early as December 2016.
Minister Farrugia's own record is not untainted by corruption scandals. As junior minister for planning, he met with Fenech on the same day that he ordered an area called Mriehel to be included in a planning policy for high-rise buildings. This benefited two of the families involved in the Electrogas energy deal – the Gasan group and the Tumas Fenech Group. How convenient.
The Fenech and Gasan family businesses just happened to be building a tower in that same area, and visitor logs at the Office of the Prime Minister confirm the timing of his visit. But Farrugia vehemently denied ever discussing a change to a Planning Authority high-rise policy with the businessman accused of ordering Caruana Galizia's murder, saying anyone who alleged otherwise was 'lying'.
Oh, and Farrugia didn't know anything about the phantom job given to murder middleman Melvin Theuma right after he arranged for the hit on Daphne, either, despite Theuma having been hired by Farrugia's own department. He knew nothing about it and had never met or discussed Theuma with anyone.
The amnesia displayed by the former minister in charge of police was shocking, but it was surpassed by the day's previous witness: James Camenzuli, former chairman of the evaluation board for the hospitals deal.
Camenzuli didn't even seem to know anything about the company that his board handed a concession for three of Malta's public hospitals — and millions per year in public funds.
Asked whether the committee ran due diligence on the people behind the bid, Camenzuli replied, "They were backed by well-known companies". Yet a report by the Auditor General slammed the deal as "predetermined" and the result of "collusion".
Camenzuli didn't keep a copy of the VGH evaluation report, either. He claims to have handed over all documents when he left Projects Malta. Nor did he have any emails from his time there.
Caruana Galizia family lawyer Therese Comodini Cachia asked, "Was the financial report handwritten?"
"I don't have any copies", Camenzuli replied.
Judge Said Pullicino found these answers perplexing. "Any serious person would have such documents," he said.
Camenzuli insisted he handed them to Projects Malta.
And that's when his lawyer, Pawlu Lia, intervened. "These [questions] are intended for other purposes and other aims," he said, gesturing towards Comodini Cachia, who also happens to be an Opposition MP.
Lia was deploying the same excuse this government has always used to deflect accusations of corruption — that it was just a plot by the other party to discredit them and seize power. Lia is Joseph Muscat's personal lawyer – the same lawyer who accompanied the former prime minister to the police station when he was interrogated last month.
Like the three 'wise' monkeys on the Tōshō-gū shrine in Nikko, Japan, no one seems to have heard, seen or said anything about the corruption everyone knew was eating the country alive while they were in power.
And so the public inquiry struggles on, attempting to draw conclusions from a web of conflicting testimony and selective amnesia.
Unfortunately, its time may be running out.
The inquiry was established in September 2019 with a nine-month term, but coronavirus delays and a massive workload have made it a very slow process.
The inquiry filed a request to have the term extended to mid-December, and Prime Minister Robert Abela replied that he has no objection to granting it — but he made it clear the extension would be non-renewable.
The threat of a government imposed time limit drew strong objections from Dutch MEP Pieter Omtzigt, special rapporteur to the Council of Europe, and the man who did so much to force the Maltese government to agree to the inquiry.
"Only the inquiry itself can determine when its task is fulfilled," he said. "The inquiry must be allowed to work without outside interference, especially from the government whose actions it is investigating."
Omtzigt insisted that the inquiry's report, and how the government of Malta and the Attorney General respond to it, will be crucial to ending the country's rule of law crisis.
Unfortunately, this puts Abela in a difficult position. The former personal consultant to Muscat campaigned on a promise of "continuity" — implying he would continue the policies that brought economic prosperity to large segments of the country under his disgraced predecessor.
But each new hearing has revealed that Malta's prosperity was based on an unstable foundation of crime.
As Omtzigt pointed out on Twitter, "In a few months, the Daphne Caruana Galizia inquiry has done more to expose the corruption, misgovernment and criminal conspiracies that plagued Malta at the time of her death than all of the endless, opaque and ineffectual magisterial inquiries put together."
That early success may prove to be the public inquiry's downfall.
The following project is weekly Maltese Roundups prepared by The Shift News (Malta) offering the latest news in Daphne Caruana Galizia case.