It's been nearly four years since Maltese investigative journalist Daphne Caruana Galizia was killed with a massive car bomb just down the road from her home on 16 October 2017. Her murder shocked Europe, but it was just the first in a series of attacks targeting journalists in the EU.
Ján Kuciak and his girlfriend were shot dead four months later in Slovakia. While Kuciak's murder resulted in prison sentences and sparked a crisis that culminated in the resignation of the entire Slovak cabinet, no one has yet been sentenced for Caruana Galizia's death, and with the exception of disgraced former prime minister Joseph Muscat, the same Labour Party continues to govern Malta, with many of the same key ministers.
The same individuals are still on trial, and their cases are no closer to a resolution. After a lengthy compilation of evidence stage, accused mastermind Yorgen Fenech was indicted this year, with prosecutors seeking a life sentence for complicity in murder. No date has been set for the trial.
The case against hitmen George and Alfred Degiorgio continues. The two have filed over 100 pre-trial pleas since the compilation of evidence against them began, in what looks like endless legal wrangling to delay proceedings.
Their colleague, hitman Vince Muscat, pled guilty in a plea bargain deal with prosecutors that will see him serving a 15-year sentence in exchange for providing information about the journalist's murder, and about the unrelated killing of a lawyer.
The men who allegedly supplied the bomb that killed Caruana Galizia, Robert Agius and Jamie Vella, were arrested and charged soon after.
Testimony given in the compilation of evidence stage of each of these trials — and in the public inquiry into the journalist's death — has repeatedly implicated high ranking politicians in both the murder and in systematic attempts to cover up the crime, but no individual from the political sphere has yet been charged in court despite a pattern of arrests and questioning.
Only one member of Joseph Muscat's inner circle has had to face justice for incidents that occurred before Labour was elected to power. Former chief of staff Keith Schembri was charged with money laundering and other financial crimes over an illicit deal to award a multi-million euro contract to his company. Brian Tonna and Karl Cini, operators of accounting firm Nexia BT, were also charged.
The ongoing reluctance to investigate Schembri in relation to any of the other corruption scandals exposed by Caruana Galizia raised questions over whether these relatively minor charges were filed in order to give international institutions the impression that investigations into corruption and money laundering were progressing.
The complete failure of law enforcement to investigate the corruption Caruana Galizia wrote about was also a regular feature of the trials. Little progress is evident in this area, despite the appointment of Angelo Gafa as police commissioner.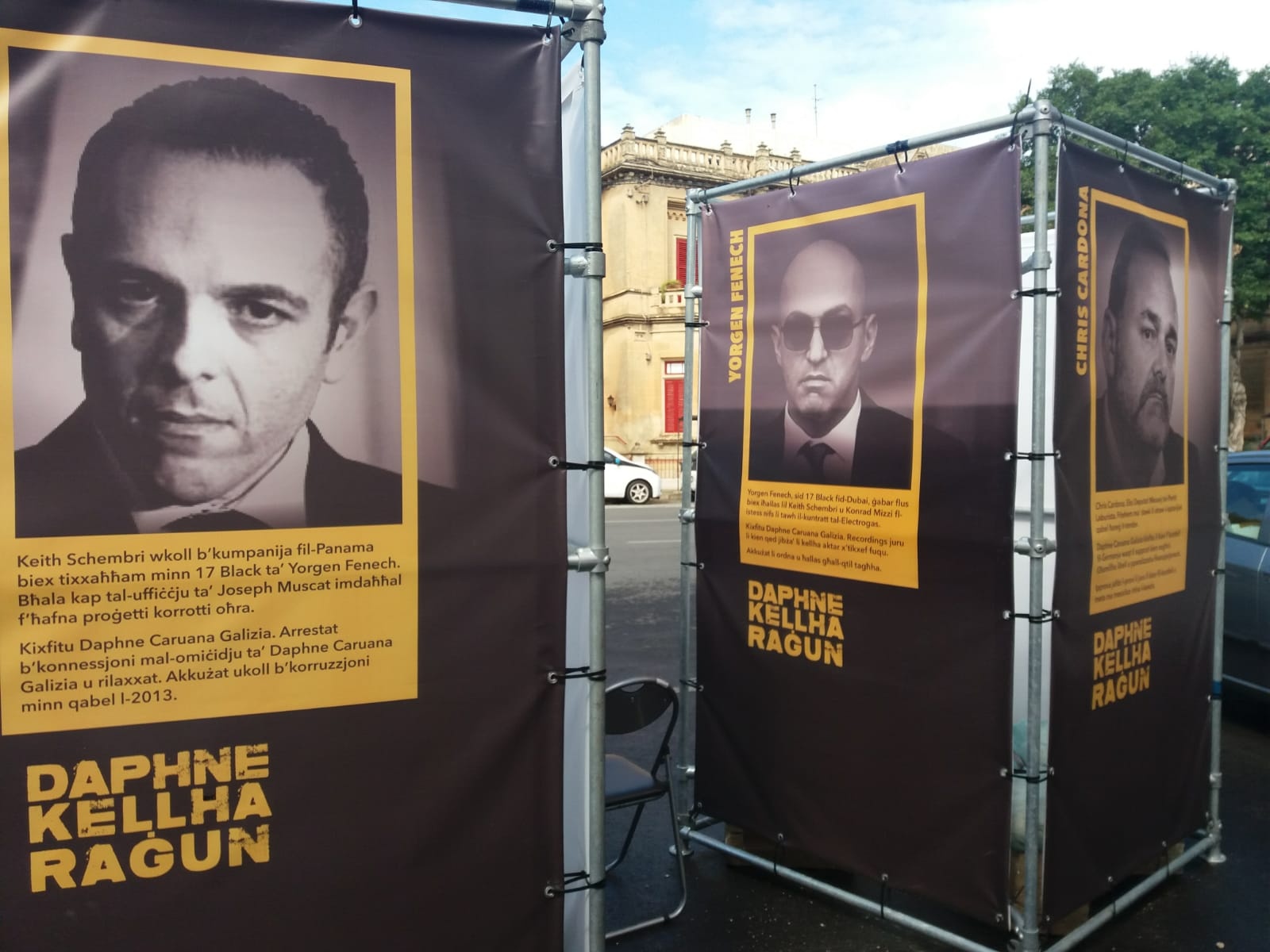 The only police official to be charged is Ray Aquilina, a retired former superintendent from the Economic Crimes Unit suspected of leaking information on the murder investigation.
Disgraced former police commissioner Lawrence Cutajar is reportedly being investigated for holding secret meetings with an associate of middleman turned State's witness Melvin Theuma prior to his arrest, raising concerns of "possible collusion" between the former police chief and one of the suspects. But no further details have been made public, fuelling speculation that 'under investigation' will be used as an excuse to avoid questions and accountability, as it has in so many other cases.
In the meantime, journalists both in Malta and abroad continue working on the investigations that remained unfinished at the time of Caruana Galizia's death. Their results have proven just how right she was.
The Passport Papers exposé revealed the rampant corruption behind Malta's cash-for-passports programme.
And new links were uncovered between accused murder mastermind Yorgen Fenech, public officials and businessmen involved in the Electrogas power station project that Caruana Galizia was investigating when she was murdered.
Four years after the bomb that ended Caruana Galizia's life, the only real changes that have been implemented by the government have come as a result of intense pressure from abroad, and even these were minimal and riddled with deliberate loopholes.
The international community responded by imposing clear sanctions to further isolate the country from the global financial system.
Malta was placed on The Financial Action Task Force's (FATF) 'grey list' of countries at high risk of money laundering and terrorist financing, a decision Prime Minister Robert Abela called "unjust" and "not deserved".
Soon after, the UK placed Malta on its list of high-risk countries for money laundering and terrorist financing, increasing both the risk and administrative burden of dealing with companies and individuals in the troubled country.
The 2021 Basel Anti-Money Laundering Index has also ranked Malta as the highest risk country in the entire European Union for money laundering and terrorist financing.
And the European Commission's 2021 Rule of Law assessment found that, while reforms have been introduced on paper, actual results remain to be seen — especially when it comes to prosecuting corruption.
The Venice Commission, Moneyval, and FATF have provided clear guidelines for bringing Malta back into good standing with the international financial community, but the government has proven unwilling to make the necessary prosecutions, or to put an end to a culture of corruption and impunity.
Malta's relegation to the ranks of financial pariah comes at a time when Joseph Muscat's corruption-tainted cash-for-passports scheme — upon which the government is increasingly dependent for revenue — is also under terminal pressure. The European Union opened infringement proceedings against Malta to put an end to the programme. The government has refused to shut it down, vowing to take the fight to the European Court of Justice.
The long-awaited conclusion of the public inquiry into Caruana Galizia's assassination held the Maltese State responsible for her death. The result was a 400+ page report that cited wide-reaching failures in every part of the administration, State, government, Cabinet, and law enforcement that culminated in a collapse in the rule of law and a culture of total impunity.
Prime Minister Robert Abela's refusal to commit to a specific plan for implementing the long list of recommendations proposed by the report indicates his continued unwillingness to hold key figures to account.
As the fourth anniversary of her murder approaches, civil society organisations are reminding the government that they will never forget, and that their call for justice is as strong as ever. The road to reform in Malta is clear. Yet, with general elections on the horizon, it is unclear whether it's one the government is willing to take.
The following project is weekly Maltese Roundups prepared by The Shift News (Malta) offering the latest news in the Daphne Caruana Galizia case.