THIS INVESTIGATION IS PART OF THE JUSTICE FOR JOURNALISTS FOUNDATION INVESTIGATIVE GRANT PROGRAMME AND WAS INITIALLY PUBLISHED BY AOAV).
War presents itself with a thousand faces; masks of death and despair, heroism and selflessness, corruption and profit. Such miens surface in the fog of battle often only when journalists capture them and relay them to the world. But journalists covering conflict, too, present themselves as a myriad of faces.
Today, in Ukraine, a small army of local correspondents has mobilised to cover the violence that has descended upon their country. Former sports reporters, news-hacks and investigative editors have found themselves focusing on the drip feed of death counts and confronting the conjecture and chaos that make up Ukraine's daily reality.
But what is it like to report on such a war when it is your own country under threat? What has the invasion of Ukraine done to Ukraine's journalists?
In this series of interviews, they reflect not just on a battle for truth in a country deluged by Russian disinformation, but also how the war has altered a generation of native journalists in ways yet to be truly known.
The War Correspondent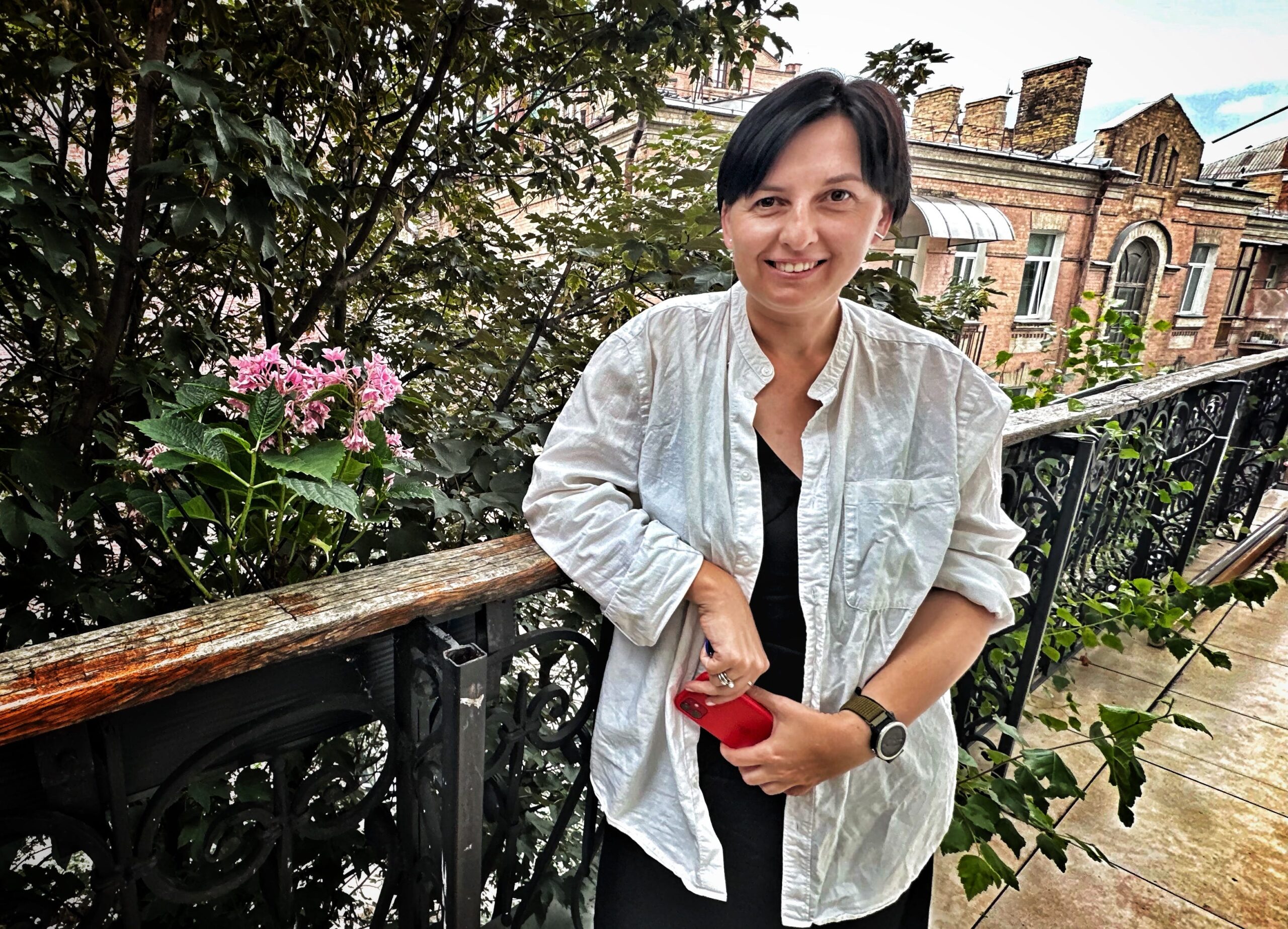 At first, Anastasia (Nastia) Stanko did not want to be called a war correspondent. Just covering the conflict in her own country was enough. But, as she has seen first-hand again and again the visceral violence inflicted upon her nation, she's comfortable with that term now.
More than most, she's felt war's edge. In 2014, when Crimea was annexed and Donetsk and Luhansk seized by Russian-backed separatists, she was kidnapped and held in a basement for three days. In 2015, she was held again near the Russian-Ukrainian border. Since the full-scale invasion, half her life has been on the jagged frontlines of Ukraine's defence.
Today, this 38-year-old is philosophical about what the war has asked of her.
"It forces us to constantly question our purpose, choices, and actions," she says in a quiet moment in an inconspicuous newsroom in central Kyiv. "We need to contemplate why we cover specific stories, the narratives we create."
A moral weight of the war reporter's task forms a thick strand through her work.Subscribe
"I wanted a comprehensive view by crossing the frontline, to capture events from all angles. But it became clear," she says, recalling the kidnappings, "that it wasn't always feasible to achieve balanced reporting. Sometimes, it was dangerous to even try."
She recently became the editor-in-chief of an investigative project, yet still feels the pull to return to the frontline. That pull has impacted her family. In the last few years, she has spent about half of each month on the frontline and the other half with her two-and-a-half-year-old son.
"Sometimes you question why you're doing this, even though you have doubts about its value. You doubt your relationship with your child and even your husband. Despite the doubts, there's an inner need to bear witness. Witnessing becomes the clearest reason."
Her drive, in part, is underpinned by a belief that Ukrainian journalists – not international reporters – are better equipped to cover the invasion, not least because they understand the context.
"Foreign journalists," she says, "can sometimes lack a deeper understanding, and some may even create stories that don't accurately represent the reality here. Of course, there are exceptions. However, some come with preconceived notions. In contrast, Ukrainian journalists often have a more nuanced view and a deeper connection to the stories they cover."
"We have connections to people and places that foreign journalists might not fully grasp," she says. "I have connections to people on the frontlines, as well as those in government offices. I gather information from multiple perspectives and cross-reference data to piece together the truth. I also try to witness events first-hand whenever possible. This combination of sources, data, experience, and rational thinking helps me navigate the complexities and challenges of reporting in a war zone."
Even so, she still questions the impact of her work.
"While (my) journalism can provide information and shed light on important issues," she says, "there are moments when I feel it may not be enough to bring about substantial change. However, I recognize that journalism plays a crucial role in documenting history and holding those in power accountable. It's a complex and evolving perspective that continues to shape my work."
So, she continues against the storm, despite the obvious burden of her experiences. Because, as she says, she can do nothing but.
The Local Journalist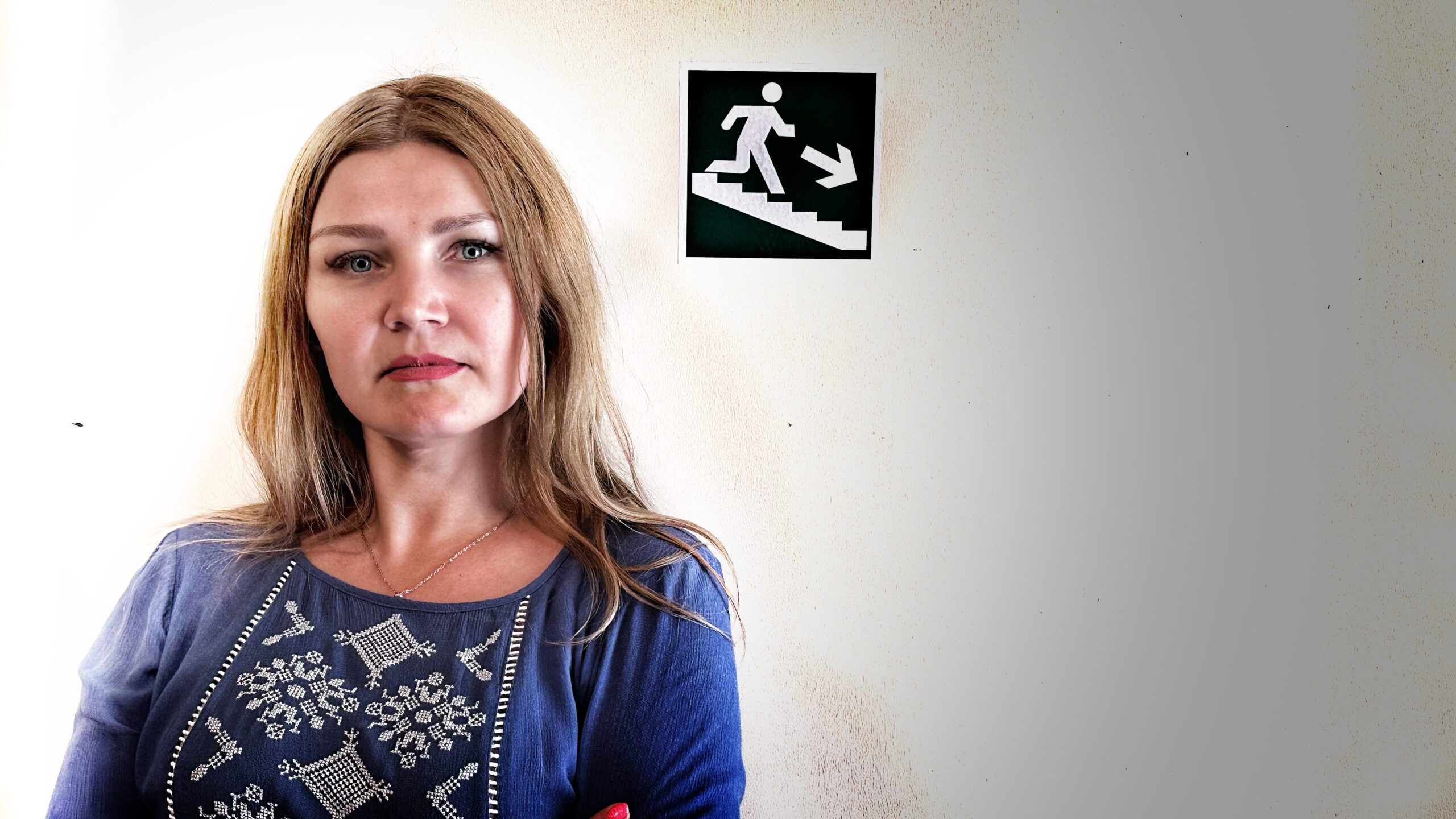 Tatiana Kaushan runs a local newspaper in the north east of Ukraine. Hers is a small weekly pamphlet meant for the residents of a small community of 20,000. The paper's editor since 2015, the war came into her life uninvited and devastated the news outlet she oversaw.
Last January, she tells you, she had nine people working there. Now, just two remain.
She does not begrudge those that left – her community was bombarded by terrible shelling. Villages, close to the border, suffered nightly attacks; bridges were destroyed; thousands fled. But her husband is a surgeon and she feels a duty to report, so they stayed.
She wrote about the young child hit by mortar fire; the farmers almost killed by landmines; the dairies devastated by the war's heavy toll. She reported until the war impacted her very ability to report. The Russians occupied the territories where her printing presses stood, so she improvised and photocopied her newspaper onto folded sheets of A3. Taking to the streets, she glued the news to lamp-posts and bus stops. She went from village to village, even knowing that the high-ground was full of Russian troops.
Byline Supplement is a reader-supported publication. To receive new posts and support our work, consider becoming a free or paid subscriber.Subscribe
A story of a handmade paper, handed out in a war, invaders on the horizon's edge. It feels like something from a distant time, but this is 2023 and this is Europe.
"The cover page said 'Glory to Ukraine'," she says. Inside the stories were deliberately local – where to get medicine; where to find milk and flour; which villages had been shelled. Her role was true news. No gossip and celebrity, a news of necessity.
"We are now a formal resource in the area," she says, "both for locals and for the army. I am trying to fill eight pages with copy and realise if I leave this, no one will replace me. The other side is spreading fake news and if I don't counter that, they will prevail."
"The truth," no matter how local, she says with conviction, "needs to come out.
The Investigative Reporter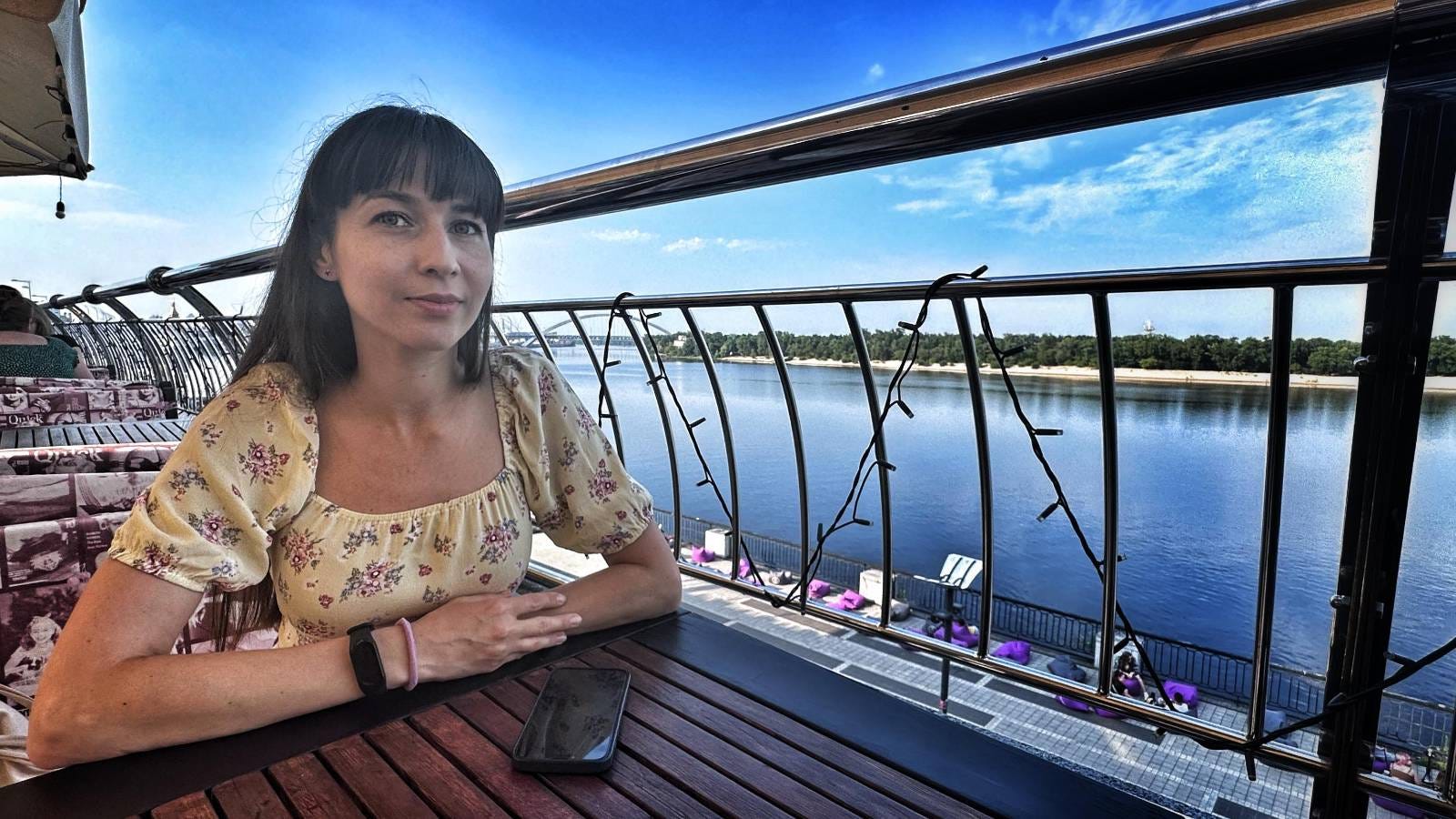 Elena Loginova's work was far more global. She spent most of her time before the invasion reporting on Ukrainian corruption and its place in the world. She was part of a team at Slidstvo.Info that worked on big, international stories like the Pandora Papers, the Paradise Papers, and the Russian and Azerbaijani Laundromats.
Her work, she says, was driven by a belief that "we live in one world, where global corruption has local consequences." Such a focus on corruption – to which Ukraine was by no means a stranger – put Loginova in a hard situation when the Russians launched their attack.
"Just before the full-scale invasion," she says, "I published a story about President Zelensky and his connections with the oligarch Igor Kolomoisky. It was a moment of realisation."
"I had to think about the context – criticising Ukraine's President in the midst of an invasion. Of course, when you're facing imminent danger, discussing offshore deals may not be a priority. I was torn between war crimes versus economic crimes. In the end, I decided to pursue both aspects because I believe they are all interconnected."
She cites a recent story about a Ukrainian millionaire leaving the country with a fake disability certificate – healthy Ukrainian men generally not being allowed to leave the country – then going to climb Everest. Corruption does not end just because her country is under attack, she says.
As others focus on missiles and massacres, she is working on a story of corrupt shell companies involved in Ukrainian grain exports. As violence flared, she heard from her sources that war profiteering by some Ukrainians still continued.
"It made me realise that while people were experiencing these atrocities, the oligarchs' behaviour hadn't changed," she says. "I felt naive, me thinking people would change in such circumstances. But then I decided that if they didn't stop robbing the country, making shady deals, I should continue my previous work."
Of course, investigating corruption in the thick of war presents challenges.
"Once the war started," she explains, "the financial and company data that we had previously used to report from was inaccessible, people citing national security concerns, and this created significant obstacles [for transparency]." But she perseveres; her battle to tackle Ukrainian corruption, after all, is driven by a fundamental point.
"Looking at Russia," she says, "we see the impact of corruption on a country. It can lead to serious crimes, and even can lead to war." Sipping a drink, she looks over the river that bisects Kyiv – the sun is setting, casting the city in golden light – and says: "I think it's better to fight every day for improvement. Far better than to exist in a country like Russia. That's not a life, that's mere existence."
The Storyteller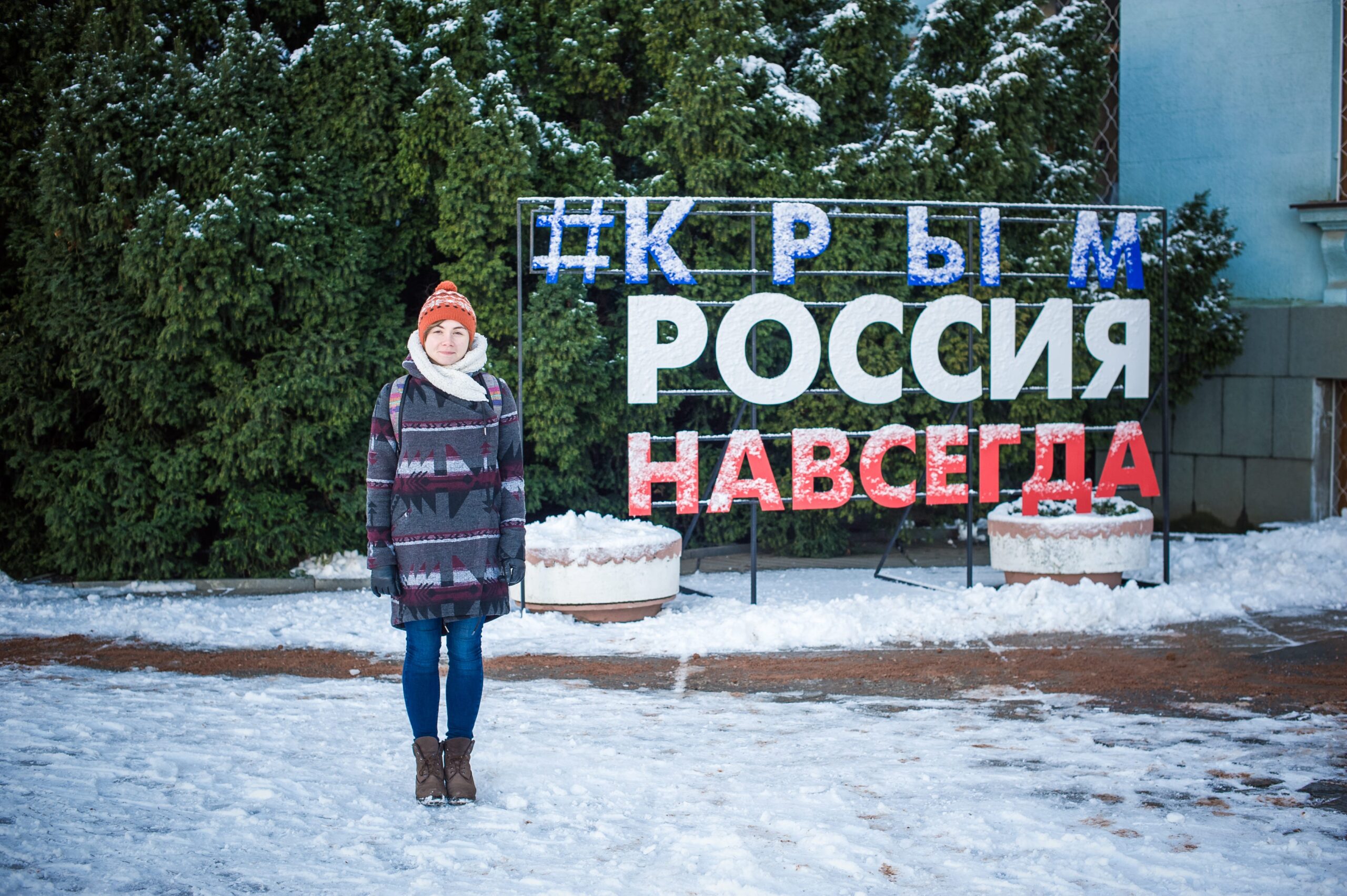 Before the invasion, the work of Alona Savchuk,a 34-year-old freelance writer, took her to places of dark tension like Crimea and Syria. There she focused on religious and ethnic conflicts, led by her fascination with extremism and ideologies' capacity to descend into chaos.
"These previous experiences prepared me for this," she says of the war. Savchuk is a steady, carefully-spoken woman. "It's more challenging for those who've never encountered such a situation before. I saw all this before, just in different parts of the world and under different circumstances."
Since the invasion she's been creating documentary podcasts. Each episode has a specific topic on the reverberating impact of the invasion. But, aware of the capacity for despair to drown out hope, she applies age-old storytelling methods to ensure her reporting does not get too bleak.
"In every story, there's a hero, a beacon of hope," she says. "For instance, I am currently working on a story about a village that thrived before the invasion. That place, home to about 1,000 people, is now devastated. It lies in a valley between two high hills and was caught in the crossfire. Now, there isn't a single home intact. Only about 40 people live there now, but they are determined to rebuild. Despite the unexploded ordnance littering their land, they continue."Subscribe
"How such people can overcome adversity…" she trails off, moved by their determination.
She details how she gathers her stories: "When I interview people, I cross-check their accounts of horrible events or the numbers of casualties with open sources, such as the judicial register, and with local contacts."
"I can usually tell when people lie," she says, placing this ability down to her own heightened sense of empathy. "From a young age, I understood various perspectives. My father died from cancer when I was 16, which had a huge impact on me and influenced my understanding of loss and suffering."
"There was this woman who lost her husband a few months back. She was in despair; the only solace was sitting by the sea, staring at the water. I could understand her pain and connected with her on that level because it's one of the few things that calms me down as well. It's about drawing from your own experiences and finding that point of connection."
But this capacity for empathy seems to come with a cost: an inability to shield herself from the bitter realities of the war.
"The biggest challenge for me is the lack of a safe place," she says. "I've worked in unsafe areas before – Syria, Iraq, Belarus – but always with the knowledge I could return to a place of safety. Now, there is no such place. I can't even sleep naked because I'm constantly considering the possibility of a missile attack on my home and the last thing I want is for a fellow photojournalist to take a picture of my body without clothes. Even when I work abroad, I can't relax because I constantly need to understand what's happening in my country."
Her fear of the Russians is palpable. "Not only as a Ukrainian but as a woman, given the amount of suffering Russian forces inflict on Ukrainian women. I'd do anything not to be captured. I don't believe any story is worth risking my life or health."
But when you ask her if she'll continue to tell stories of the war, she smiles and says, of course. What else could she do?
The Journalist Occupied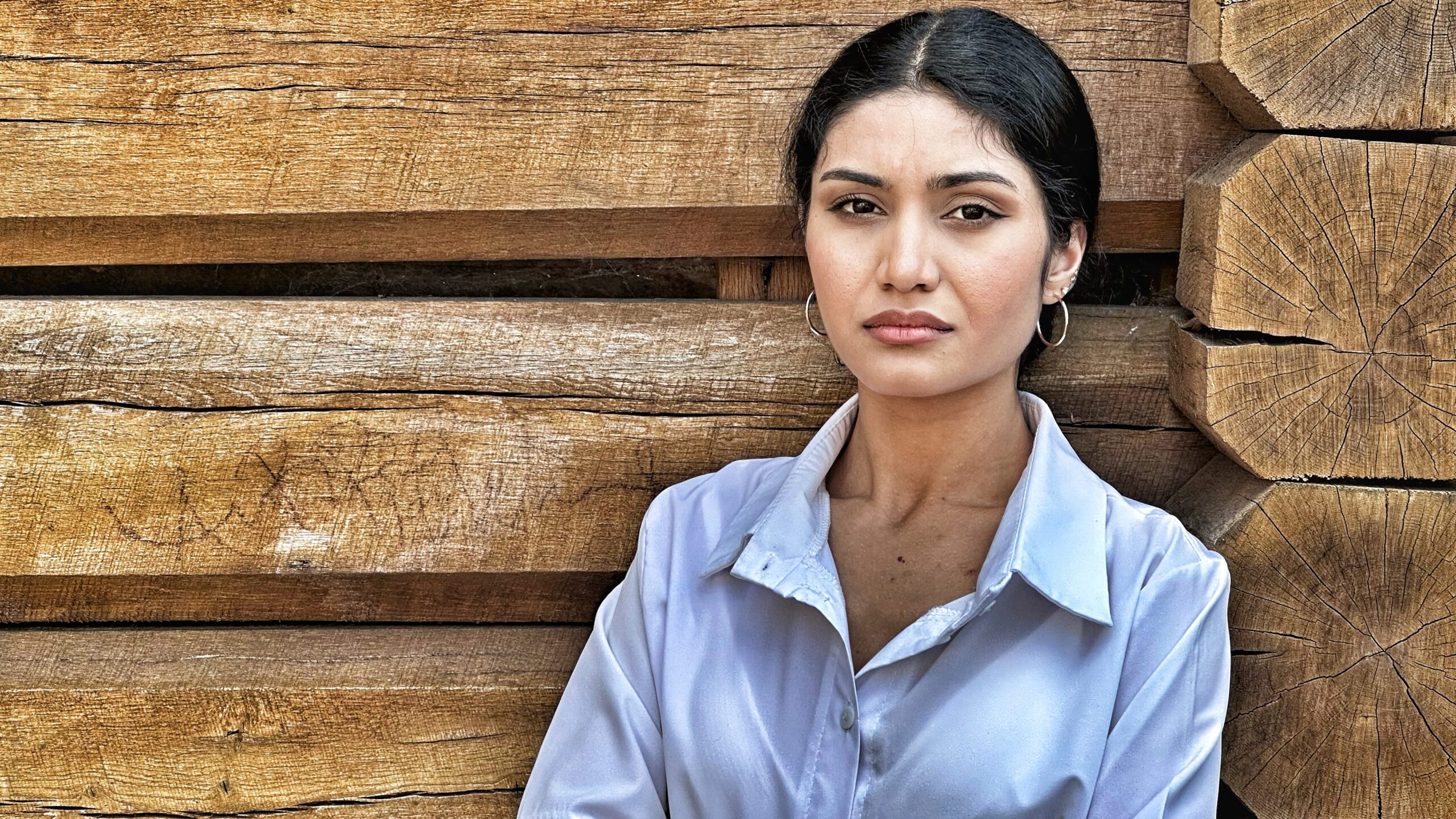 As the Russian invasion took vast swathes of land from the Ukrainians, some reporters found themselves on the wrong side of a military cordon. Marina Azizova, a 23-year-old editor of a local news website, was one.
Living with her parents in the small village of Charivne in the Kirovohrad Oblast, about 100 km from Kherson, she awoke to news of the Russian onslaught. And Marina did what almost all other Ukrainian reporters did – she started filing.
Before the war, her beat was agribusiness and trade links with Europe. News for a local audience. Then, she says "everything changed." Weeks frantically writing, even as Russian troops, drunk on cheap vodka and energy drinks, filed into her village.
Knowing she had to act fast, she buried her notebooks and tablet and press-pass in the garden. And when the Russians entered their home, she was glad they didn't check the haystack – for there Marina had hidden her computer.
"We suffered, now it's your turn to suffer," the soldiers said, and they stole the family's mini-van and painted the Russian military sign 'Z' onto it.
In all of this, Marina continued to file. She was diligent in wiping everything off her internet browser, and still she wrote. At least she did until mid-April 2022, when the Russians shut down her internet connection and forced her into silence.
For the next six months her only access was to Russian news channels. Her only way to use a phone was with a Russian sim card. The soldiers not only cut her off from physical access to the rest of the country, they cauterised her digital existence, too.
Her life was suspended.
"All had disappeared," she says.
She spent her days reading, until the sadness of leaving home felt less than the horror of a life deferred. So, she kissed her parents and drove five days to the one checkpoint that still let people leave the occupied sectors. There she queued for two days with thousands of others. The Russian guards shot at civilian cars that tried to avoid the checkpoint.
She made it to the head of the line and guards searched her. Even her underwear, she says in a quiet voice. And as they did so, she knew they had a list of journalists and kept on imagining that this would be it – that these men with their hard hands would arrest her and, as a young woman, she knew what would come. She was not on the list.
She now lives in Kyiv. Yesterday, she filed a story about three Jewish children who fled the German holocaust and found sanctuary in World War Two Liverpool, and she darkly marvels at how history repeats. She has found love and is engaged to an actor. But the trauma of the occupation lingers. She has terrible dreams, processing what she has seen in the pillowed night: what will happen to her parents; the profusion of Russian landmines; the dead villagers.
She may have escaped the invaders, but they still remain there, in the dark, in her country, in her thoughts.
The Propagandist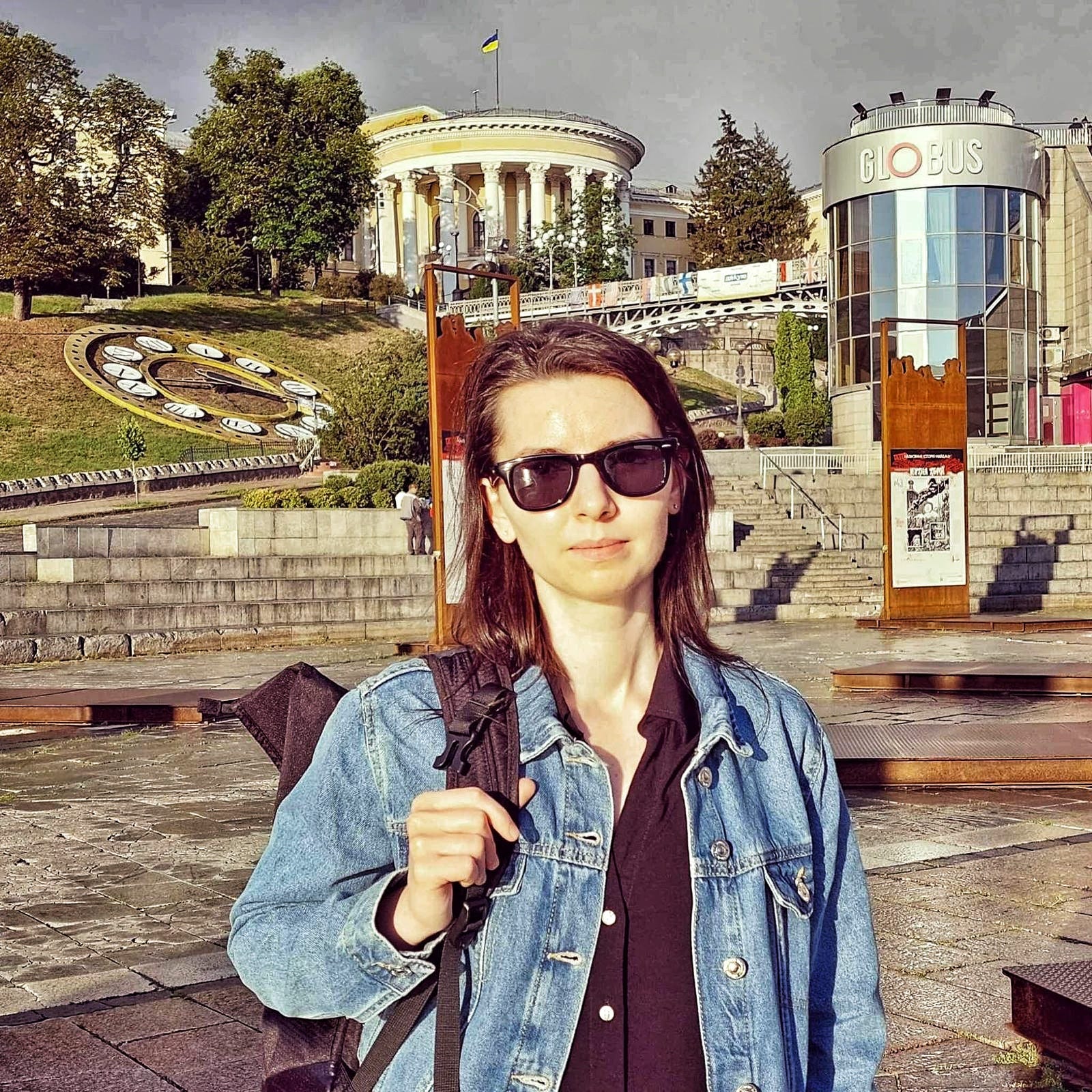 She is happy to call herself a propagandist.
After all, Kateryna Prysiazhniuk spends her days looking at the official Telegram channels of the Ukrainian government ministries and turns their messages into news reports. Her sources, which she relays without critique, are military commanders and local deputies.
"Everything's about the war," she says – a woman who laughs with a fierce intensity whenever she talks about dead Russians. Her face changes with every moment, guarded when she senses criticism, infused with an inner light when describing her mission: to defeat the Russians.
Before the war, she'd write pieces about body builders or dentists. Today, she tells you with a smile, she covered a firefight that wiped out a Russian platoon in Zaporizhzhia.
"Nowadays, I pretty much only write about dead Russians," she says. "We have an informational war with the Russians right now, and it's like a battle. If they write about things, we have to react."
She sees it as a moral duty to address Putin's lies. She gives the infamous Wagner group as an example. The Kremlin claims that it is a private company with no ties to the state, she explains. If that's true then who paid the mercenary battalion's bills that ran into billions of roubles, as some claim?
"We are not journalists," she says. "We are historians. Each story has to be separated and deconstructed." Any criticism of her work she dismisses as the work of Russian bots. She cannot understand those who do not support the way she reports. "I would say that propaganda is our weapon right now."
She makes a distinction, though. "Our propaganda is different from Russia's," she says. "We have been oppressed for centuries: our language, costumes, culture. Now we are using our identity as a weapon. In Russia, propaganda is used to distract from the corruption, from the mafia state. Here in Ukraine, our propaganda is to unite people; to tell our readers not to give up." And with that she ends the interview and goes back to her desk, back to her digital frontline.
The International Producer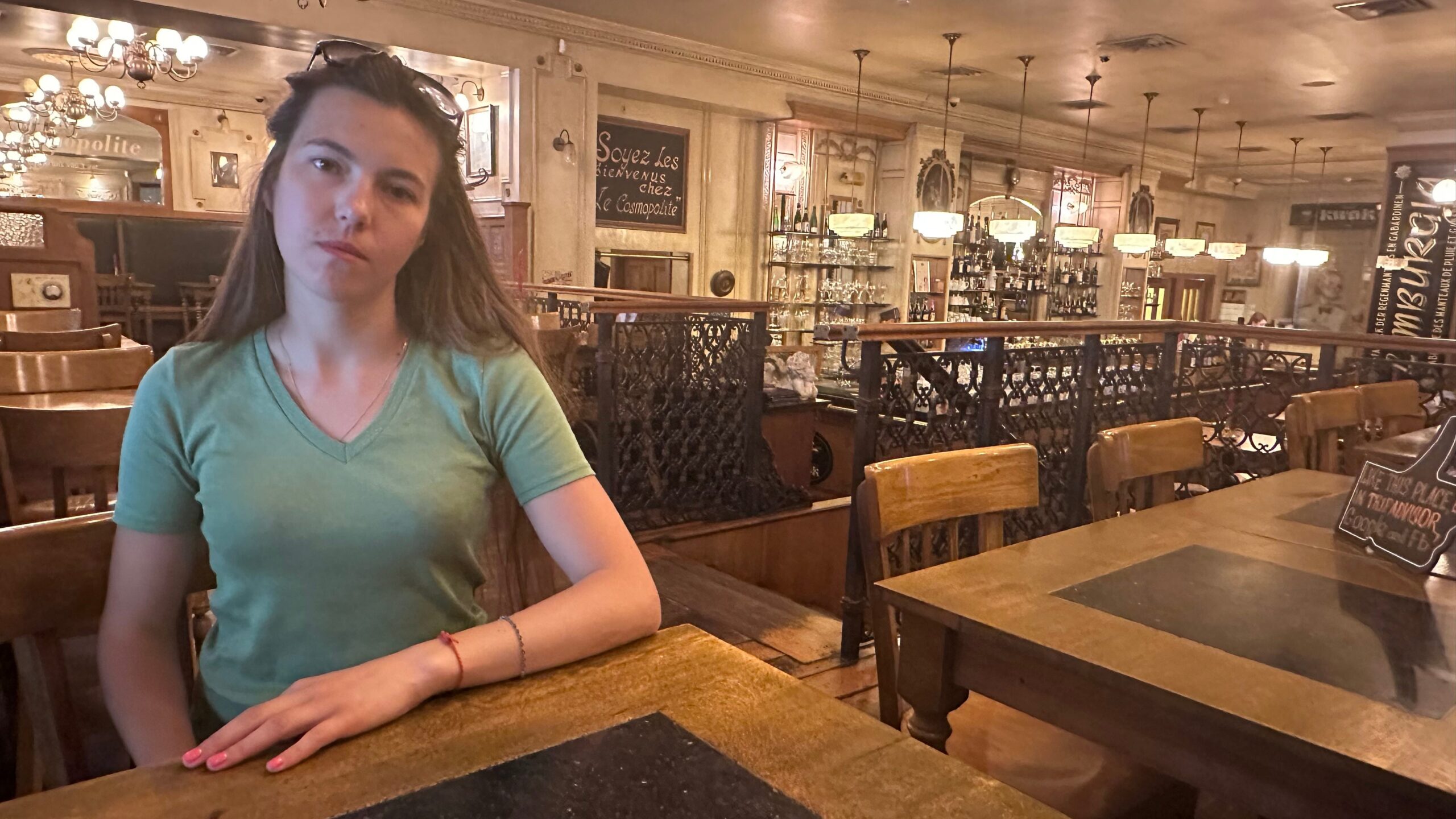 The war has made journalists out of some. Before the full-scale invasion, Anna Vlasenko, a youthful 34-year-old, had worked as a media literacy project manager, combating Russian propaganda and influencing public opinion through social media. It was something she was passionate about. But since the horrors of last February, she has been working mainly as an international producer for Canadian news channels.
"We cover various topics," she says, "from individual stories to larger investigations, such as the case of an 11-year-old girl who was killed, where we delved into finding out who was responsible."
She is driven about showing the world the reality of what is happening to her country, but realises that international media outlets won't swallow simple propaganda.
"Ultimately, I want to show the truth without bias or personal motives," she explains. "My loyalty lies with my country, but I strive to maintain a professional and objective approach in my work."
She has seen the different ways in which international reporters approach their work. Some foreign journalists just touch the surface and report from a distance, others dig deeper and engage with varied sources to understand the situation more fully.
"We monitor different sources, including Telegram channels, various media outlets, both Ukrainian and foreign," she explains. "It's important to get multiple perspectives and not rely on a single source."
The journalists she has worked with have emphasised the importance of thorough research and verification. It is, for Anna, a multi-source approach that feels "natural and how it should be".
Overall, her work with global media is – she believes – a pragmatic approach towards the goal of peace. "I believe that by doing my job and presenting the truth, I can influence the decisions of politicians and the support our country receives from foreign nations. It's about making an impact beyond just reaching a local audience in Ukraine. We are amplifying the voices of a nation and creating awareness internationally."
"In this way," she says, "journalists have become soldiers on the battlefield for the truth, making the invisible visible."
Then she tells you how, one day, she hopes for a husband, for children, a dog, a home, and you think how much she, like so many other Ukrainian journalists, is reporting not just for the present, but for the future.