In Malta, 16 October was was a day to remember the country's most determined investigative journalist, and a reminder that justice for Daphne Caruana Galizia and her family is still very far away.
Commuters were confronted by three billboards with a message for Prime Minister Robert Abela and the Labour government that has tried so hard to eradicate the memory of its harshest critic.
They read: "A Journalist Killed – No Justice"; "A Country Robbed – No Justice"; and "No Prosecutions – No Justice".
They were put up by civil society activists Occupy Justice, the same small group of determined women who kept Daphne's story alive with a memorial in the centre of Valletta, which they defended against Justice Minister Owen Bonnici's efforts to throw it in the trash every night.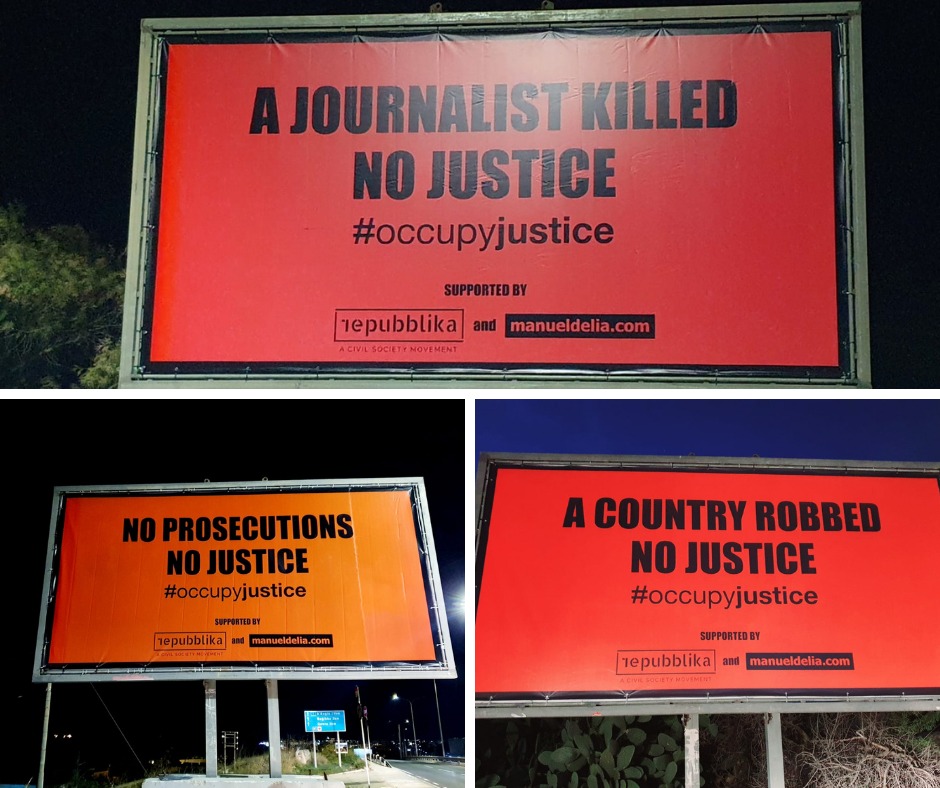 In Brussels, Special Rapporteur of the Council of Europe Pieter Omtzigt was blunt in his criticism of the slow course of justice in Malta, and the government's attempts to derail it, referring to the compilation of evidence against alleged mastermind Yorgen Fenech as "mired in confusion, with no end in sight".
"Even though three suspected triggermen were charged almost three years ago," he said, "even though the intermediary confessed almost a year ago, the trial of those accused of Daphne's murder has still not begun".
Omtzigt was instrumental in forcing the Maltese government to establish an independent public inquiry into the circumstances surrounding Caruana Galizia's death.
Unfortunately, that inquiry may become a victim of its own success, with Prime Minister Abela threatening to end it by December, a move the Council's Special Rapporteur refuses to condone.
"This inquiry has made remarkable progress in casting official, public light on the wider circumstances surrounding her death," Omtzigt said. "It must be allowed to fulfil its broad and inclusive mandate."
The European Parliament marked the anniversary by launching the Daphne Caruana Galizia Prize for Journalism, an effort led by MEP David Casa, which recognises outstanding journalism that reflects the European Union's principles and values, as enshrined in the European Charter of Human Rights.
This week also marked the publication of 'A mission to inform: journalists at risk speak out' by Marilyn Clark and William Horsley, with a launch event hosted by the Council of Europe. The book includes the last recorded interview with Daphne.
"This report has meaning to me not only because it features my mother, but because this is the last recording we have of her before she was killed," Caruana Galizia's son, Matthew, said. "She spoke about the threats and harassment she was facing. It ranged from physical to lawsuits."
Meanwhile, citizens in Malta held a vigil in the field in Bidnija where Daphne's burning car came to rest at 3pm on that terrible day.
The day would normally be marked by large protests in Valletta, and calls for justice for Daphne and her stories, but this was not possible due to the coronavirus pandemic.
Instead, activists, journalists and artists came together to present a full week of online programmes that both commemorated Daphne and strove to increase awareness of the dangers faced by those who hold power to account.
Maltese artist Joseph Farrugia exhibited The Goldfinch, a series of charcoal drawings that formed a powerful commentary against the indifference, institutional collapse and moral corrosion tied to the assassination.
Sky News journalist Alex Crawford hosted a webinar called Journalism Under Attack to discuss the dangers faced by those who investigate stories of corruption.
An art installation was launched at the Great Siege monument, site of the informal citizen's memorial to Daphne, called Justice for Daphne is Justice for Your Right to Know. And the Institute of Maltese Journalists (IGM) held a discussion on site, on the topic 'The Journalism of Tomorrow in the Malta of Today'.
The final event of the week was a screening of a new documentary by NGO Repubblika, Occupy Justice and manueldelia.com. When They Come Undone featured interviews with family members, activists, politicians and journalists who have been active in the fight for justice, including The Shift's founder and Managing Editor Caroline Muscat.
The press continued to publish new findings related to the deal that got her killed. Leaked emails and invoices obtained by Daphne in the months before her death showed that Electrogas shareholders had paid themselves generous "success fees" amounting to millions from a government-backed loan before construction on the power station had even begun — and they hid this from the European Commission.
They government also hid a secret agreement signed with Azerbaijan forcing Malta to buy LNG at ridiculously inflated prices for 18 years.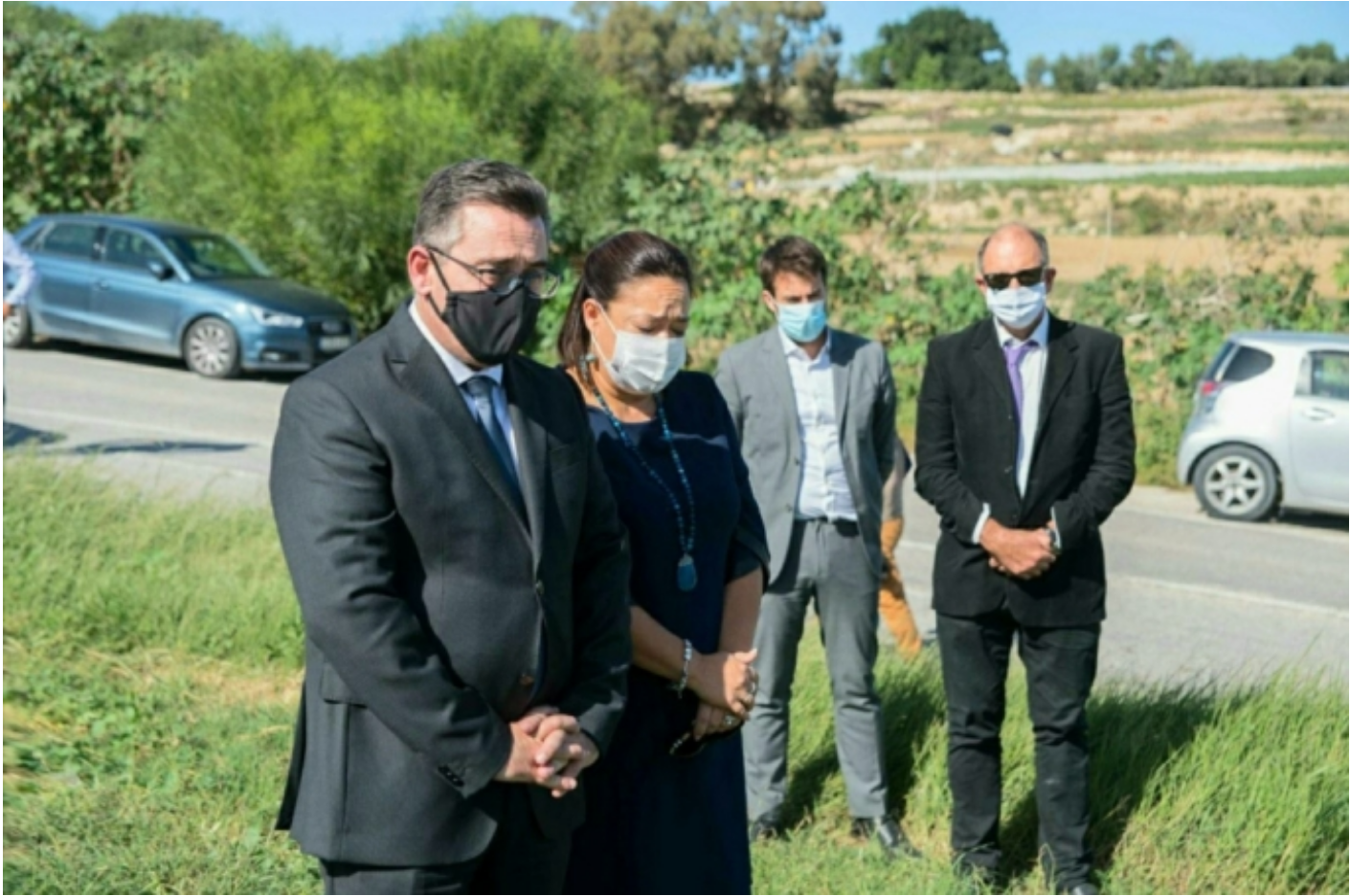 The Opposition has demanded a public inquiry into the deal. The government has said nothing. Not a single word that offered an explanation or a single word that paid tribute to the journalist on the three-year anniversary of her death. No apology. No acknowledgement.
Instead, the government flooded media channels with State propaganda and held a press conference to coincide with the timing of the launch of the documentary by civil society marking the occasion.
The government once again attempted to drown out Daphne's voice. Once again, it failed.
In the words of Daphne's sister, Corinne Vella, in the documentary: "They blackmailed her, threatened her, vilified her, sued her, and look what happened now. But her work continues. And now, slowly, they all come undone," she said.
Three years later, no one's been held accountable for her death. But there can only be one ending to this story. The walls are closing in.
The following project is weekly Maltese Roundups prepared by The Shift News (Malta) offering the latest news in Daphne Caruana Galizia case.