This investigation is part of the JFJ Investigative Grant Programme and has been initially published by the crime and corruption reporting network LUPA. Authors: Vladimir Otasevic and Marko Vesovic
Berane Prosecutor Office (ODT), headed by prosecutor Gorica Golubovic has been extremely sluggish for years to investigate two attacks on journalist Tufik Softic. Meanwhile, and the Constitutional Court in Podgorica concluded that numerous omissions were made during the investigation and consequently Softic was awarded financial damages.
The first attack took place in early November 2007, when heretofore unknown assailants inflicted serious injuries to Softic in the yard of his family house in Berane.
According to the Anti-Corruption Agency (ASK), prior to the attack on Softic, prosecutor Golubovic's salary stood at 571 euros. In terms of real estates, she and her husband Branislav Golubovic co-owned an 84 m2 apartment. ASK files show that her husband's salary was 406 euros in 2006. Shortly after the attack on journalist Softic, the prosecutor's income increased dramatically in 2008.
Her salary was tripled- from 571 euros to 1,795 euros. The increase in earnings went hand in hand with a poor investigation into the beating of the journalists.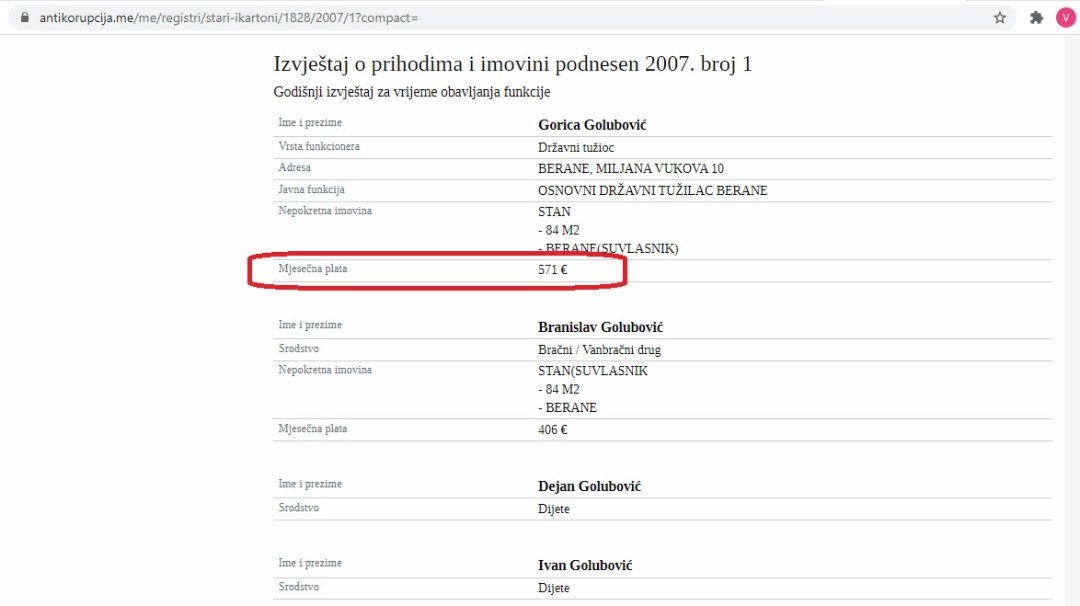 Upon the 2007 attack, Golubovic failed to order the police to block the city lest perpetrators and their helpers escape. Neither the prosecutor nor the investigative judge went to the crime scene as the criminal procedure sets out.
Furthermore, Golubovic failed to immediately summon and question the persons whom Softic reported as possible attackers and accomplices to the police that evening.
Actually it took seven years to summon and question the prime suspect for masterminding the attacks. Drasko Vukovic from Berane, a high-ranking member of Darko Saric's drug cartel was a subject of Softic's articles leading up to the attack. He appeared before the prosecutor in Berane for the first time only on July 1, 2014. Furthermore, the state prosecutor in Berane wouldn't bother to hear the injured party either. It took seven years after the attack – in 2014 to finally get a statement from Softic.
These are just some of the examples of the botched investigation according to the findings of the aforesaid court a few years later.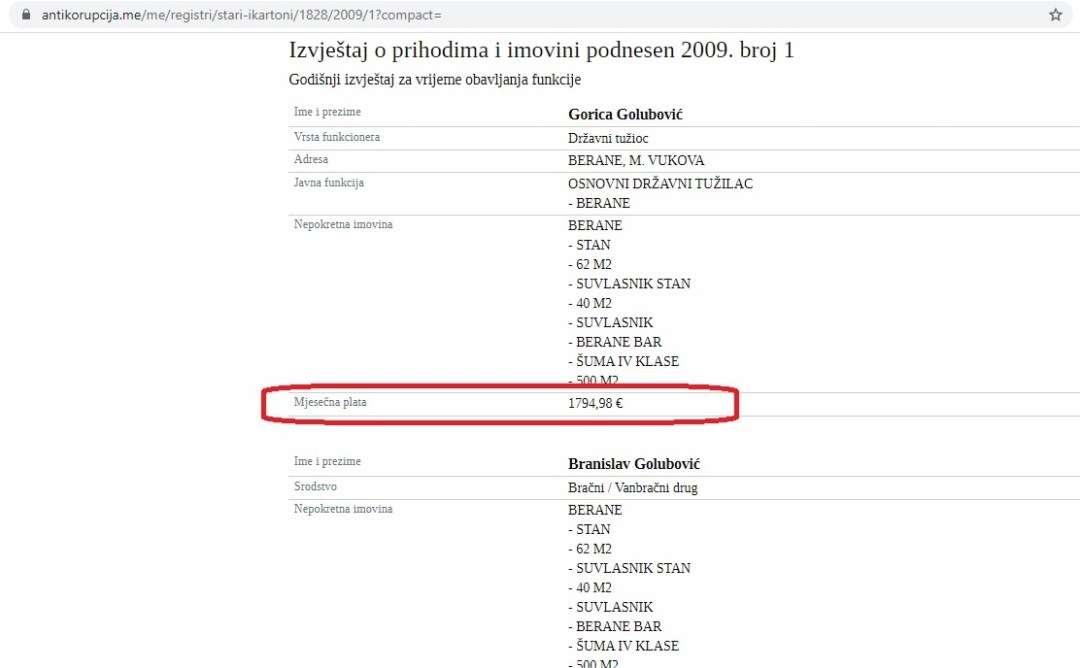 After the beating of Softic in November 2007, the wealth of Berane's chief prosecutor grew substantially. Today Gorica Golubovic owns three apartments – one of 65 square meters and the other of 42 m2, located in Berane.
Her third apartment of of 36 m2 was located in Podgorica. All apartments were purchased. Moreover, her husband Branislav owns a 20 m2 garage and an 83 m2 weekend house in Berane built without a building permit. He applied to legalize the house in 2020. Gorica Golubovic worked in Berane Prosecutor Office from December 1998 to March 2021.
Investigative journalists tried to get Golubovic's comment, but she did not respond to calls and messages.
Lawyer and member of the Commission for Monitoring the Actions of Competent Authorities in Investigations of Cases of Threats of Violence Against Journalists, Murders of Journalists and Attacks on Media Property, Dalibor Tomovic, pointed out that the prosecution still leads the Softic case to reconnaissance status.
"What is inconceivable is that after so many years, now eight years after the attack, neither the perpetrators nor those who gave the order for this attack have been found", Tomovic said.
On the other hand, Tufik Softic said that today, after all, he is trying to somehow forget what happened.
"Today, after all, I am trying to somehow forget what happened. I am much older and I do not intend to spend the rest of my life in burden. I just want to live as relaxed as possible. I have no intention of spending the rest of my life in some fear, and especially I have no intention of spending the rest of my life in some false hope that the state will solve this or something else. I have no expectations, and I have almost come to terms with the fact that it will all somehow fall into oblivion, which is slowly happening", said Softic.