This investigation is part of the JFJ Investigative Grant Programme and has been initially published by the crime and corruption reporting network LUPA. Authors: Vladimir Otašević and Marko Vešović.
Deputy Special State Prosecutor Mira Samardzic who indicted journalist Jovo Martinovic kept breaking the Law Against Corruption for years. This is confirmed by documents in possession of the Crime and Corruption Reporting Network – LUPA.
Samardzic never reported to the Anti-Corruption Agency (ASK), nor to the previous Commission for Conflicts of Interest, that her husband Radomir Samardzic was the owner of Zanatex Ltd, a company registered in Tivat. The company was founded in August 2002 whereas the company's accounts have been blocked for 19 years due to an outstanding debt of €4,158.
Although the company was formally unable to operate because of its blocked account it is still active according to the Central Business Register (CRPS). Article 23 of the Law Against Corruption states that "A public official is obliged to make an accurate and complete declaration".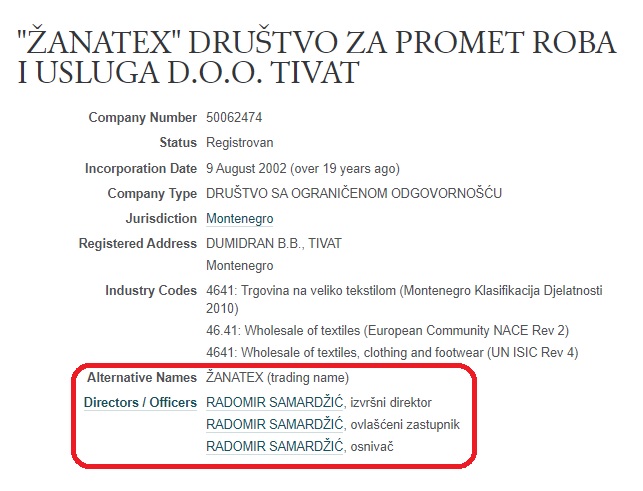 Article 24 further states that the Property Declaration shall contain "details on property and revenues of public officials and members of his/her household referred to in Article 23, paragraph 1 of this Law, and in particular the shares and stakes in legal entities and other securities".
Thus Mrs Samardzic should have made a declaration of her husband's company to ASK and to its predecessor.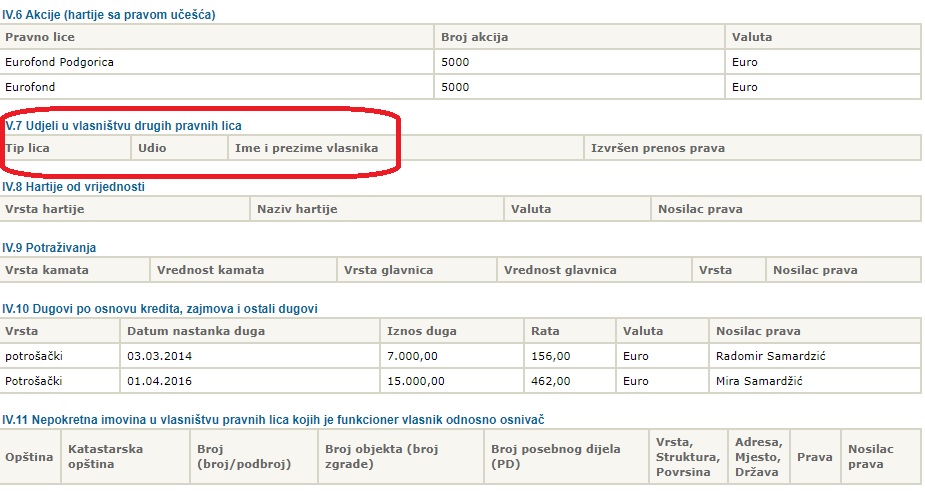 Moreover, the Anti-Corruption Agency files show that on 10 Sep 2019, Samardzic declared an existing loan of €38,000. The loan was reportedly granted on 1 Aug 2019.
However, the Cadastre and State Property Administration file that LUPA had access to, shows the exact mortgage amount on the apartment owned by the prosecutor's son Draško Samardzic. However, the date is more than three months too early- 23 May 2019. The mortgage was enforced on the basis of the mortgage statement dated 13 May 2019.

The law prescribes that every public official should make a declaration to ASK within 30 days if "assets value increase by more than €5,000".
Interestingly, prosecutor Samardzic failed to declare to ASK in 2019 that her son Drasko bought a one-bedroom apartment of 44m2 in Podgorica. Moreover, her son works in the High Court and his monthly salary amounts to €425.
The Crime and Corruption Reporting Network – LUPA tried to reach out to prosecutor Samardzic for a comment. Nevertheless, she hasn't answered the questions sent by e-mail until the publication of this story.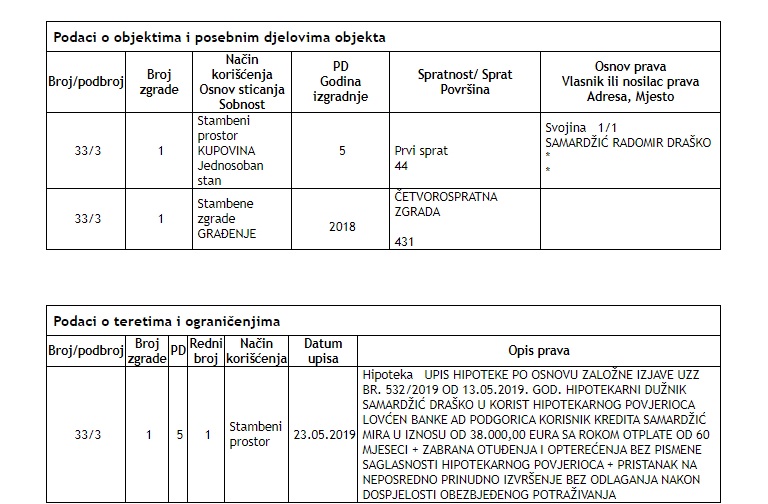 In April 2016, the Balkan Investigative Reporting Network (BIRN) reported that the said prosecutor indicted investigative journalist Jovo Martinović for aiding and abetting a criminal group involved in drug trafficking. Martinovic was in long and unduly long custody after his arrest in October 2015. While incarcerated he was constantly pressured to sign a false confession as the only way out of prison. He declined and maintained his innocence.
"I spent 14 and a half months in detention, which is unbelievable for the charges brought against me. I spent more time in detention than the leaders of the two competing narco-clans together until then. So, the same prosecutor Samardzic kept other men much less in prison although they faced a way more serious charges, including leaders of criminal organizations. My only accusation was that I set up a meeting with two people who had already known each other and for the purpose of investigating story I was working on. Consequently, I served 14 and a half months in detention on those charges said Martinović in the movie From the Road of Kalashnikov to Prison.
He added that the prosecution eventually, after the testimony of a court expert, dropped the accusation for installing "a certain application onto the phone of the lead defendant" which could enable secret communication.
"So they sentenced me to one year in prison only for a meeting two people and discussing the topic of illicit arms trade that I investigated as a journalist" Martinovic said.
He is an award-winning investigative journalist who has spent years investigating organized crime and corruption for a number of foreign media outlets.
Watch the documentary about the case of journalist Jovo Martinovic: