"George always preferred a plan to use a bomb to murder her," hitman turned State's witness Vince Muscat told a packed courtroom last week when he took the stand his former colleagues, George and Alfred Degiorgio, the hitmen accused of killing journalist Daphne Caruana Galizia.
Why a bomb rather than a rifle? It was "less hassle".
"The plan was for Alfred Degiorgio to shoot her," he said. "But we didn't have the go-ahead yet."
The delay was caused by disgraced former prime minister Joseph Muscat's sudden decision to call an election.
"We had to wait for it to be over to get the go-ahead."
Joseph Muscat had a year left in his term when he called the snap election amid a wave of anti-corruption protests that were attracting large numbers of followers. They had taken to the streets after Daphne Caruana Galizia published a story claiming the prime minister's wife, Michelle, was the beneficial owner of Egrant, a secret Panama company set up shortly after Labour came to power.
The offshore structure had been arranged by Nexia BT, a controversial accounting firm with close ties to the Office of the Prime Minister. Identical structures had been set up for Joseph Muscat's chief of staff Keith Schembri and Energy Minister Konrad Mizzi, but only Egrant was so sensitive that the ultimate beneficial owner — "an individual" — would be named over Skype rather than in writing.
The Labour Party dished out government contracts by direct order in the frantic lead up to the election, and gave over 1,000 secure public sector jobs to supporters. One-third of the army received promotions, and police officers who had retired or been dismissed for having criminal records were reinstated. Some 588 building illegalities were also regularised by the Planning Authority, 405 of them in the final two weeks of the campaign.
As the battle wore on, Muscat looked increasingly haggard, with a pallor of sleeplessness and a visible loss of weight, but his eyes took on a cold, hard glare anytime he was asked about Egrant.
A commenter warned Daphne Caruana Galizia on her blog to be careful because the stories she was publishing were dangerous. She replied, "They can do whatever they like. I've already seen the bodies of my worst enemies float pass me on the river, literally and metaphorically. Unless I die of cancer or get knocked down by a pass, the same will happen with them. Unlike them, I don't survive by the ballot box."
Everyone assumed Joseph Muscat had called the election over Egrant, but Daphne Caruana Galizia's revelation wasn't published until 19 April. The Labour Party had already chosen its slogan by mid-March, and purchased domain names by the beginning of April. He couldn't be defeated in parliament, and he wouldn't be properly investigated thanks to his control of the country's institutions. So why then?
Daphne Caruana Galizia believed something bigger was coming. "Whatever it is," she wrote, "it's bad enough to have driven Muscat to take drastic action just two months into Malta's much-vaunted presidency of the EU Council. We need to know what this thing is that they fear so much that they want it to happen after they are re-elected to another term in government, and not before."
The election was held on Saturday 3 June, and the results were clear by Sunday afternoon: an even larger majority for Labour. Melvin Theuma got in touch with the Degiorgios (the other two accused of being the hitmen) and told them to go ahead with the plan, according to information emerging in court.
The Degiorgio brothers would find Daphne Caruana Galizia wasn't an easy person to kill.
Vince Muscat told the court how he and Alfred Degiorgio watched the journalist's home from a vantage point above Bidnija, where she lived, using a pair of self-focusing binoculars purchased for €300.
"I had driven Alfred to Forestals to buy those," he said.
They watched her writing stories on her laptop — "sometimes as late as 2am" — and spotted her car outside a coffee shop in Naxxar, where Muscat went inside on the pretext of purchasing a pastry and saw her seated with a laptop.
When the family drove to the airport with three large suitcases, the hitmen feared they were "leaving for good". But it was just a holiday.
"We'd spend long hours there [at the lookout point], sometimes from 6am to night-time," Vince Muscat said. "We'd be sitting there on two bricks. It was uncomfortable, you'd get sore."
"One night, Alfred and I walked up to her home," he added. "The light was on. We saw her seated at her computer, there was a living room. She was doing her work."
"That seemed to be her study. She was there every day. So we planned for Alfred to shoot her with a telescopic weapon."
They obtained several rifles, and filled sacks with soil to create a makeshift gun rest, but when the time came to carry out the plan, George Degiorgio got cold feet.
Listening to Vince Muscat's testimony, Andrew Caruana Galizia wrote on Twitter, "That August night I took my parents to dinner at the Phoenicia for my mother's 53rd birthday. Newly married, I joked about having children and her becoming a grandmother. She said, 'Isn't that the obvious next step?'"
The men who watched them leave the family home decided to switch to George Degiorgio's preferred method of contract killing.
The bomb arrived from abroad in September, courtesy of Robert Agius and Jamie Vella, who assured the men it would do the job. Six inches, "neat" and made of stainless steel, it was packed with 500g of gelignite, a high explosive made from nitroglycerine that is normally used for blasting rock.
The device included a place to insert a battery which would last six months, and another slot to insert a sim card. Worried that the explosion would maim the journalist rather than kill her, the men attached a small bottle of petrol to improve its effectiveness.
As the summer wore on and the thermometer climbed towards 40 degrees, the killers were pressured to get the job done.
"Whoever it was wanted to hurry things up," the hitman said. "Melvin Theuma used to tell Alfred, and I was with Alfred every day."
They decided in early October to strike when Daphne drove home from the popular Notte Bianca festival held in the country's capital. "We expected her to attend. Everyone went there. Not that we would blow it up amid people. We'd do it as she drove home."
As they drove there, Vince Muscat recalls the Degiorgios saying they didn't care who else would be with her in the car that night. "Whoever it is, it could be her children," they said.
But they wouldn't have to take that risk.
"Some days after Notte Bianca, on 15 October at around 9pm, I was going out to eat with my partner," Vince Muscat said in court. "Alfred called, I told him I was heading out to eat. He told me 'her car is outside'."
The men placed the bomb beneath the driver's seat during the night, and detonated it the next day as Daphne Caruana Galizia drove down the hill.
A neighbour named Francis Sant witnessed her final moments.
"She appeared to be panicking," he said, testifying at the public inquiry in February. "I heard a small bang, like fireworks. Then I heard a piercing scream." A second explosion happened moments later, engulfing the car in a ball of flames. "I saw parts of her ripped off. Her hand flew off. It was terrible. Then I saw blood… I realised they were human parts."
His voice faded almost to a whisper as he added, "It was so cruel".
But as Vince Muscat told the court last week, for the hitmen, a bomb was more 'convenient' than a gun. After confirming that the job was done, Vince Muscat went for a cup of tea, just as he'd gone for a kebab when they received the initial deposit for the murder.
Former prime minister Joseph Muscat issued an official statement as the shell of Daphne Caruana Galizia's car lay smouldering in a field.
"Everyone is aware that Ms Caruana Galizia was one of my harshest critics, politically and personally, as she was for others, too," he said. "However, I can never use, in any way this fact to justify, in any possible way, this barbaric act that goes against civilization and all dignity."
Michelle Muscat, the prime minister's wife, was more direct in an exclusive media interview nine months later.
"If there is someone who wants Daphne Caruana Galizia to be alive today, that is me. When I heard the news about what happened to her, I think I was more sorry than her own family. Her family could go on to make her a saint; but at the time I said to myself: 'Now I will have to live with her lies'. I want her alive."
As for middleman Melvin Theuma, the only remorse he expressed was self-pity.
Testifying before the public inquiry, he described Yorgen Fenech as "the worst man in Malta — in the whole world — because he got me into this mess". Not because he funded the murder of a wife and mother, but because "at 3pm on October 16, 2017, my life ended."
Reminded that this was the day Caruana Galizia lost her life, Theuma replied, "And I as much as her." This comment did not go down well.
Five of the seven people arrested and charged in the case have attempted to strike deals for a pardon in exchange for their testimony. Two were accepted.
Melvin Theuma agreed to turn State's witness in exchange for a presidential pardon absolving him of responsibility for all his crimes.
Vince Muscat is serving a 15-year sentence and will pay over €40,000 in court expenses after reaching a deal with prosecutors to provide information about Daphne Caruana Galizia's murder. The three years he's already spent in jail awaiting trial will be deducted from his sentence. If given the usual remission for good conduct, he could be released in seven to eight years, in time for his 65th birthday.
Daphne Caruana Galizia didn't live to see her 54th, or her first grandchild.
None of the politicians or police officials named repeatedly in court for allegedly interfering with the investigation, and leaking information to key suspects, have been charged.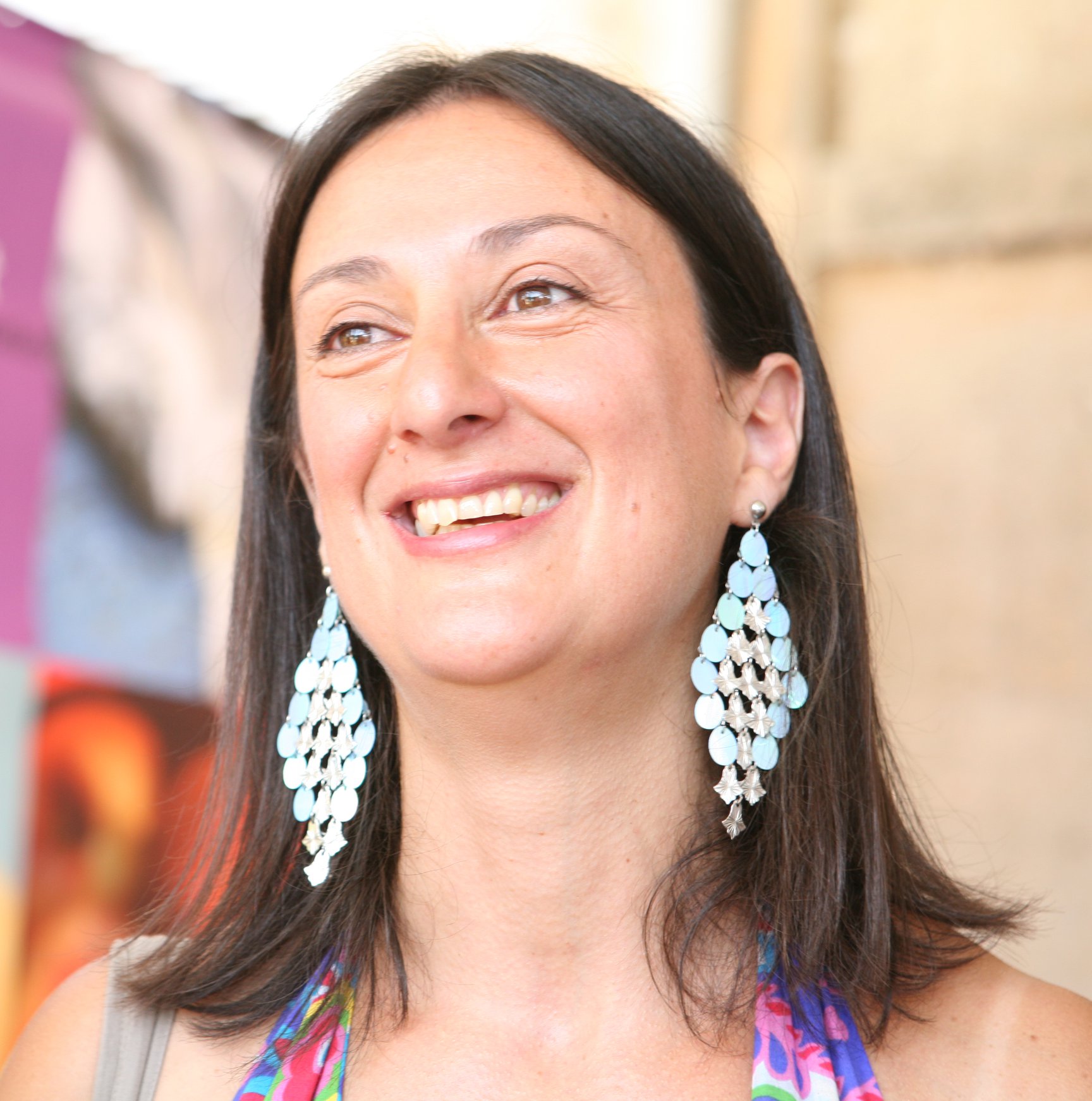 The following project is weekly Maltese Roundups prepared by The Shift News (Malta) offering the latest news in Daphne Caruana Galizia case.